Article information
Abstract
Full Text
Bibliography
Download PDF
Statistics
Tables (2)
Table 1. Relative frequency of the different image characteristics of computed tomography in acute SARS-CoV-2 infection.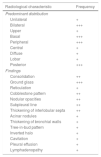 Abstract
During the COVID-19 epidemic, the prevalence of the disease means that practically any lung opacity on an X-ray could represent pneumonia due to infection with SARS-CoV-2. Nevertheless, atypical radiologic findings add weight to negative microbiological or serological tests. Likewise, outside the epidemic wave and with the return of other respiratory diseases, radiologists can play an important role in decision making about diagnoses, treatment, or preventive measures (isolation), provided they know the key findings for entities that can simulate COVID-19 pneumonia. Unifocal opacities or opacities located in upper lung fields and predominant airway involvement, in addition to other key radiologic and clinical findings detailed in this paper, make it necessary to widen the spectrum of possible diagnoses.
Keywords:
COVID-19
Computed tomography
X-rays
Radiography
Diagnostic imaging
Resumen
La prevalencia en fase epidémica de la COVID-19 hace que prácticamente cualquier opacidad pulmonar en la radiografía de tórax pueda ser una neumonía por SARS-CoV-2. Sin embargo, hallazgos radiológicos atípicos aumentarán la credibilidad de un resultado microbiológico o serológico negativo. Asimismo, fuera de la ola epidémica y con el retorno de otras entidades respiratorias, el radiólogo puede tener gran relevancia en la toma de decisiones diagnósticas, terapéuticas o preventivas (aislamiento) si conoce las claves diagnósticas de las entidades simuladoras de neumonía COVID-19. La distribución unifocal o en campos pulmonares superiores de las opacidades y la afectación predominante de vía aérea, entre otras claves radiológicas y clínicas detalladas en este capítulo, implican necesariamente ampliar el abanico de posibilidades diagnósticas.
Palabras clave:
COVID-19
Computed tomography
X ray
Radiography
Diagnostic imaging
Article
These are the options to access the full texts of the publication Radiología (English Edition)
Purchase
Purchase article
Purchasing article the PDF version will be downloaded
Price 19.34 €
Purchase now
Contact
Phone for subscriptions and reporting of errors
From Monday to Friday from 9 a.m. to 6 p.m. (GMT + 1) except for the months of July and August which will be from 9 a.m. to 3 p.m.
Calls from Spain
932 415 960
Calls from outside Spain
+34 932 415 960
E-mail