Article information
Abstract
Full Text
Bibliography
Download PDF
Statistics
Abstract
IgG4 related disease (IgG4-RD) is probably an autoimmune pathology of unknown aetiology. Diverse interactions participate in its pathogen between the adaptive and innate immune systems, activating lymphocytes B and T which trigger the inflammatory cascade, which culminates in fibrosis of the organs and their malfunction. It can affect a multitude of organs simultaneously. The diagnosis is based on the correlation of clinical findings with anatomopathological results (lymphoplasmocitary infiltrate, storiform fibrosis, obliterative phlebitis and IgG4+ plasmatic cell count) and with the presence of elevated IgG4 in serum, depending on the criteria used. Corticoids and rituximab are among the few validated treatments available. There are multiple biomarkers and treatments in development. In this review, we aim to go over the principal pathogenic and clinical characteristics of IgG4-RD, as well as its handling, in accordance with the available scientific evidence.
Resumen
La enfermedad relacionada con la IgG4 (IgG4-RD) es una afección probablemente autoinmune, de etiología desconocida. En su patogenia participan diversas interacciones entre los sistemas inmunes adaptativo e innato, activando linfocitos B y T que desencadenan la cascada inflamatoria, que culmina en fibrosis de los órganos y disfunción de los mismos. Puede afectar a multitud de órganos simultáneamente. El diagnóstico está basado en la correlación de hallazgos clínicos con los resultados anatomopatológicos (infiltrado linfoplasmocitario, fibrosis estoriforme, flebitis obliterativa y recuento de células plasmáticas IgG4+) y con la presencia de IgG4 elevada en el suero, dependiendo de los criterios utilizados. Entre los escasos tratamientos validados disponibles se encuentran los corticoides y rituximab. Existen múltiples biomarcadores y tratamientos en desarrollo. En esta revisión pretendemos repasar las características patogénicas y clínicas principales de la IgG4-RD, así como su manejo, de acuerdo con la evidencia científica disponible.
Palabras clave:
Enfermedad relacionada con IgG4
Diagnóstico
Tratamiento
Article
These are the options to access the full texts of the publication Medicina Clínica (English Edition)
Subscribe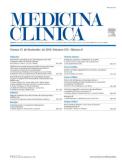 Subscribe to
Medicina Clínica (English Edition)
Contact
Phone for subscriptions and reporting of errors
From Monday to Friday from 9 a.m. to 6 p.m. (GMT + 1) except for the months of July and August which will be from 9 a.m. to 3 p.m.
Calls from Spain
932 415 960
Calls from outside Spain
+34 932 415 960
E-mail