Article information
Abstract
Full Text
Bibliography
Download PDF
Statistics
Abstract
Statins are the most widely used drugs for both primary and secondary prevention of cardiovascular diseases and those associated with atherosclerosis. About 25 million people are on statin therapy in the world. Although they are well tolerated by most patients and have a safety profile, some patients have muscle level alterations. The biological effects associated with these drugs are known as pleiotropic; they are of such interest and diversity that explains, in part, some of the actions of statins, especially in relation to inflammation and the immune system. Some patients have certain immune disorders that can turn into an undesirable clinical expression. Recent studies have shown that they can trigger autoimmune phenomena. Pathologies have been described in which these agents act as triggers such as immune-mediated necrotizing myopathy or indirectly in dermatomyositis or autoimmune hepatitis, among others. Given the high number of people being treated with statins, we believe that this is a clinically relevant problem and therefore worthy of study.
Keywords:
Statins
Pleiotropic
Immunosuppressive
Autoimmunity
Resumen
Las estatinas son los fármacos más utilizados en la prevención tanto primaria como secundaria de enfermedades cardiovasculares y asociadas a aterosclerosis. Alrededor de 25 millones de personas están en tratamiento con estatinas en el mundo. A pesar de que son bien toleradas por la mayoría de los pacientes y de tener un perfil muy seguro, algunos pacientes presentan alteraciones, especialmente a nivel muscular. Los efectos biológicos asociados a estos fármacos son conocidos como pleiotrópicos; son de tal interés y diversidad que explican, en parte, algunas de las acciones de las estatinas, especialmente en relación con la inflamación y el sistema inmunitario. Algunos pacientes presentan ciertas alteraciones inmunológicas que puede transformarse luego en expresión clínica no deseable. Estudios recientes han mostrado que pueden desencadenar fenómenos autoinmunitarios. Han sido descritas enfermedades en las que actúan como desencadenantes, como la miopatía necrosante inmunomediada, o indirectamente en dermatomiositis o hepatitis autoinmunitaria, entre otras. Es así por lo que dado el elevado número de personas en tratamiento con estatinas, creemos que se trata de un problema clínicamente relevante y, por tanto, merecedor de estudio.
Palabras clave:
Estatinas
Pleoitrópico
Inmunodepresor
Autoinmunitario
Article
These are the options to access the full texts of the publication Medicina Clínica (English Edition)
Subscribe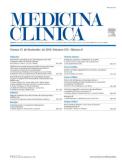 Subscribe to
Medicina Clínica (English Edition)
Contact
Phone for subscriptions and reporting of errors
From Monday to Friday from 9 a.m. to 6 p.m. (GMT + 1) except for the months of July and August which will be from 9 a.m. to 3 p.m.
Calls from Spain
932 415 960
Calls from outside Spain
+34 932 415 960
E-mail