Article information
Abstract
Full Text
Bibliography
Download PDF
Statistics
Abstract
Microarray technology, recently implemented in international prenatal diagnosis systems, has become one of the main techniques in this field in terms of detection rate and objectivity of the results. This guideline attempts to provide background information on this technology, including technical and diagnostic aspects to be considered. Specifically, this guideline defines: the different prenatal sample types to be used, as well as their characteristics (chorionic villi samples, amniotic fluid, foetal cord blood or miscarriage tissue material); variant reporting policies (including variants of uncertain significance) to be considered in informed consents and prenatal microarray reports; microarray limitations inherent to the technique and which must be taken into account when recommending microarray testing for diagnosis; a detailed clinical algorithm recommending the use of microarray testing and its introduction into routine clinical practice within the context of other genetic tests, including pregnancies in families with a genetic history or specific syndrome suspicion, first trimester increased nuchal translucency or second trimester heart malformation and ultrasound findings not related to a known or specific syndrome. This guideline has been coordinated by the Spanish Association for Prenatal Diagnosis (AEDP, «Asociación Española de Diagnóstico Prenatal»), the Spanish Human Genetics Association (AEGH, «Asociación Española de Genética Humana») and the Spanish Society of Clinical Genetics and Dysmorphology (SEGCyD, «Sociedad Española de Genética Clínica y Dismorfología»).
Keywords:
Microarray
Prenatal diagnosis
Genetic diagnosis
Resumen
La tecnología de microarrays, de reciente implantación en el diagnóstico prenatal internacional, se ha convertido en uno de los pilares de este diagnóstico en cuanto a su capacidad de detección y objetividad de resultados. La presente guía comprende una exposición general de la tecnología, incluyendo aspectos técnicos y diagnósticos a tener en cuenta. En concreto, se definen: los distintos tipos de muestras prenatales que se van a utilizar (biopsia de vellosidades coriónicas, líquido amniótico, sangre procedente de cordón umbilical o material procedente de restos abortivos) así como las particularidades de cada una de ellas; qué puntos hay que tener en cuenta de cara a la elaboración de un consentimiento informado y de la emisión de un informe de microarray prenatal, especialmente en el caso de la posible definición de variantes de significado incierto; las limitaciones inherentes a la técnica que deben ser tenidas en cuenta a la hora de recomendar su uso diagnóstico; así como un algoritmo pormenorizado de situaciones clínicas, donde se recomienda el uso de microarrays y su incorporación a la rutina clínica en el contexto de otras pruebas genéticas, incluyendo embarazos con antecedentes familiares o hallazgos sugerentes de un síndrome concreto, translucencia nucal incrementada en el primer trimestre o cardiopatía congénita en el segundo trimestre y hallazgos ecográficos no relacionados con un síndrome conocido o específico. Esta guía ha sido coordinada por la Asociación Española de Diagnóstico Prenatal (AEDP), la Asociación Española de Genética Humana (AEGH) y la Sociedad Española de Genética Clínica y Dismorfología (SEGCyD).
Palabras clave:
Microarray
Diagnóstico prenatal
Diagnóstico genético
Article
These are the options to access the full texts of the publication Medicina Clínica (English Edition)
Subscribe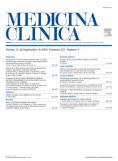 Subscribe to
Medicina Clínica (English Edition)
Contact
Phone for subscriptions and reporting of errors
From Monday to Friday from 9 a.m. to 6 p.m. (GMT + 1) except for the months of July and August which will be from 9 a.m. to 3 p.m.
Calls from Spain
932 415 960
Calls from outside Spain
+34 932 415 960
E-mail