Article information
Abstract
Full Text
Bibliography
Download PDF
Statistics
Abstract
DNA methylation is an epigenetic mechanism that controls gene expression. In Alzheimer's disease (AD), global DNA hypomethylation of neurons has been described in the human cerebral cortex. Moreover, several variants in the methylation pattern of candidate genes have been identified in brain tissue when comparing AD patients and controls. Specifically, DNA methylation changes have been observed in PSEN1 and APOE, both genes previously being involved in the pathophysiology of AD. In other degenerative dementias, methylation variants have also been described in key genes, such as hypomethylation of the SNCA gene in Parkinson's disease and dementia with Lewy bodies or hypermethylation of the GRN gene promoter in frontotemporal dementia. The finding of aberrant DNA methylation patterns shared by brain tissue and peripheral blood opens the door to use those variants as epigenetic biomarkers in the diagnosis of neurodegenerative diseases.
Keywords:
Epigenetics
Alzheimer disease
Dementia
Methylation
Resumen
La metilación del ADN es un mecanismo epigenético que controla la expresión génica. En la enfermedad de Alzheimer (EA) se ha encontrado hipometilación global del ADN en neuronas del córtex cerebral humano. Además, se han identificado variaciones en el patrón de metilación de genes candidatos en el tejido cerebral entre pacientes y controles, como el gen PSEN1 y APOE, relacionados con la fisiopatología de la EA. En otras demencias degenerativas también se han descrito variaciones en la metilación de genes clave, como hipometilación del gen SNCA en la enfermedad de Parkinson y la demencia con cuerpos de Lewy o hipermetilación del promotor del gen GRN en la demencia frontotemporal. Algunas de estas variaciones en el patrón de metilación del ADN son compartidas por el tejido cerebral y la sangre periférica. Este hallazgo permitirá su utilización como biomarcadores epigenéticos en el diagnóstico de las enfermedades neurodegenerativas.
Palabras clave:
Epigenética
Enfermedad de Alzheimer
Demencia
Metilación
Article
These are the options to access the full texts of the publication Medicina Clínica (English Edition)
Subscribe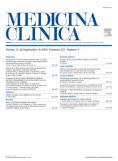 Subscribe to
Medicina Clínica (English Edition)
Contact
Phone for subscriptions and reporting of errors
From Monday to Friday from 9 a.m. to 6 p.m. (GMT + 1) except for the months of July and August which will be from 9 a.m. to 3 p.m.
Calls from Spain
932 415 960
Calls from outside Spain
+34 932 415 960
E-mail