Article information
Abstract
Full Text
Bibliography
Download PDF
Statistics
Abstract
Sarcoidosis is an idiopathic multisystem granulomatous disease that commonly involves the skin in 25% of affected patients. Because lesions assume a vast array of morphologies, a classification dividing them into specific (with presence of typical granulomas in the biopsy) or nonspecific (not containing granulomas) has been proposed. In the first group the variant morpheaform is considered exceptional. We review the cases reported in the literature and describe the possible differential diagnosis. We highlight the importance of recognizing the very atypical presentation of sarcoidosis and its ability to mimic morpheaform or sclerosis diseases in our patients.
Keywords:
Sarcoidosis
Granuloma
Sclerosis
Resumen
La sarcoidosis se considera una enfermedad multisistémica, idiopática que se caracteriza por la formación de granulomas en los órganos afectados. Las manifestaciones clínicas son muy diversas y tradicionalmente se han clasificado como específicas (con presencia de granulomas típicos en la biopsia) y no específicas (sin granulomas). Dentro del primer grupo, la variante de sarcoidosis morfeiforme se considera excepcional y puede suponer un auténtico reto diagnóstico para el clínico. Hacemos una revisión de todos los casos descritos hasta la fecha y planteamos los posibles diagnósticos diferenciales. Resaltamos la importancia de conocer las formas atípicas de sarcoidosis y la capacidad para simular cuadros morfeiformes o esclerodermiformes en los pacientes que la padecen.
Palabras clave:
Sarcoidosis
Granulomas
Esclerosis
Article
These are the options to access the full texts of the publication Medicina Clínica (English Edition)
Subscribe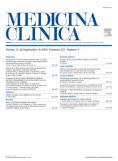 Subscribe to
Medicina Clínica (English Edition)
Contact
Phone for subscriptions and reporting of errors
From Monday to Friday from 9 a.m. to 6 p.m. (GMT + 1) except for the months of July and August which will be from 9 a.m. to 3 p.m.
Calls from Spain
932 415 960
Calls from outside Spain
+34 932 415 960
E-mail