Article information
Abstract
Full Text
Bibliography
Download PDF
Statistics
Abstract
Background and objectives
Methaemoglobinaemia is a typical acute intoxication disorder in children under one-year old. It is produced by excess nitrates which induce the haemoglobin's iron oxidation, preventing its adequate binding to oxygen. It is more frequent in infants due to its lower enzymatic activity.
Patients
Two cases of 15-month-old infants with methaemoglobinaemia after the intake of vegetables, atypical by the age of the patients and the initial severity in the first case that simulated a septic syndrome. Both cases evolved well with adequate oxygen therapy.
Conclusions
Although the most frequent clinical manifestation is cyanosis associated with respiratory distress, methaemoglobinaemia can present with more severe and confusing symptoms. The main treatment is oxygen therapy at high concentrations and methylene blue as an intravenous antidote only in selected cases. The intake of vegetables is the main cause of this in infants, so it is important to give adequate information to parents about the consumption and preservation of these foods during the first year of life.
Keywords:
Methaemoglobinaemia
Food poisoning
Paediatrics
Respiratory distress
Resumen
Antecedentes y objetivo
La metahemoglobinemia es un cuadro de intoxicación aguda típico de niños menores de un año. Se produce por un exceso de nitratos que producen la oxidación del hierro de la hemoglobina impidiendo su adecuada unión al oxígeno. Es más frecuente en lactantes debido a su inferior actividad enzimática.
Pacientes
Dos casos de lactantes de 15 meses con cuadros de metahemoglobinemia tras ingesta de verduras, atípicos por la edad de los pacientes y por la severidad inicial en el primer caso, que llegó a simular un cuadro séptico. En ambos casos se logró la resolución del cuadro con adecuada oxigenoterapia.
Conclusiones
Aunque la clínica más frecuente es cianosis asociada a dificultad respiratoria, la metahemoglobinemia puede presentarse con cuadros más severos y confusos y en mayores de un año. El tratamiento de elección es oxigenoterapia a altas concentraciones y azul de metileno como antídoto por vía intravenosa únicamente en casos seleccionados. La ingesta de vegetales es el principal causante de este cuadro, por lo que es importante dar la información adecuada a los padres sobre el consumo y la conservación de estos alimentos.
Palabras clave:
Metahemoglobinemia
Intoxicación alimentaria
Pediatría
Dificultad respiratoria
Article
These are the options to access the full texts of the publication Medicina Clínica (English Edition)
Subscribe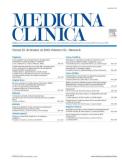 Subscribe to
Medicina Clínica (English Edition)
Contact
Phone for subscriptions and reporting of errors
From Monday to Friday from 9 a.m. to 6 p.m. (GMT + 1) except for the months of July and August which will be from 9 a.m. to 3 p.m.
Calls from Spain
932 415 960
Calls from outside Spain
+34 932 415 960
E-mail