Article information
Abstract
Full Text
Bibliography
Download PDF
Statistics
Abstract
There is a growing concern and awareness of skin cancer. As a result, possibly unnecessary surgeries of melanocytic lesions are carried out as a prophylactic measure.
We performed a systematic review of the medical literature to identify primary studies on the effectiveness and cost-effectiveness of surgery treatment of benign melanocytic lesions for melanoma prevention.
We included 19 primary studies on surgical treatment of acquired melanocytic lesions and one economic evaluation. Indicators, such as number needed to treat and the malignancy ratio, depend on several factors such as specialty and experience of the physician, pressure from the patient or patient characteristics.
Early diagnosis of melanoma is critical in preventing skin cancer. However, primary studies show through several indicators that there are factors that increase the proportion of lesions treated unnecessarily. Effectiveness can be improved by careful use of techniques to identify suspicious lesions and educational programs for physicians, especially in primary care.
Keywords:
Melanocytic lesions
Prevention
Melanoma
Systematic review
Resumen
Debido a una creciente sensibilidad sobre el cáncer de piel, posiblemente se está realizando un número excesivo de intervenciones quirúrgicas de lesiones melanocíticas como medida profiláctica.
Se realizó una revisión sistemática de la literatura médica de estudios primarios sobre la efectividad y coste-efectividad de la cirugía de lesiones melanocíticas benignas como prevención del melanoma.
Se incluyeron 19 estudios primarios sobre tratamiento quirúrgico de lesiones melanocíticas adquiridas y una evaluación económica. Las medidas de efectividad, como el número necesario a tratar y la ratio de malignidad, dependen de factores como la especialidad y experiencia del médico, la presión por parte del paciente o las características de este.
La detección precoz del melanoma es fundamental. Sin embargo, existen factores que aumentan la proporción de lesiones tratadas innecesariamente. Se necesita una cuidadosa aplicación de técnicas de identificación de lesiones sospechosas y programas educativos dirigidos a los médicos, especialmente de atención primaria.
Palabras clave:
Lesiones melanocíticas
Prevención
Melanoma
Revisión sistemática
Article
These are the options to access the full texts of the publication Medicina Clínica (English Edition)
Subscribe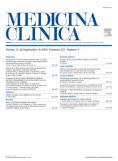 Subscribe to
Medicina Clínica (English Edition)
Contact
Phone for subscriptions and reporting of errors
From Monday to Friday from 9 a.m. to 6 p.m. (GMT + 1) except for the months of July and August which will be from 9 a.m. to 3 p.m.
Calls from Spain
932 415 960
Calls from outside Spain
+34 932 415 960
E-mail