Article information
Abstract
Full Text
Bibliography
Download PDF
Statistics
Tables (4)
Table 2. Staging system of the Barcelona Clinic Liver Cancer.
Table 3. Phase III clinical trials completed in first and second-line with molecular therapies. Survival and time to radiological progression.
Table 4. Phase III clinical trials underway with targeted molecular therapies, antiangiogenic and immunotherapeutic.

Abstract
Hepatocellular carcinoma (HCC) is the sixth most common cancer worldwide with over 740,000 new cases per year and the third leading cause of cancer-related death, with a growing incidence in recent years. This tumour usually arises in patients with an underlying chronic liver disease. The management of this tumour has improved over the past 2 decades: patients at risk are included in a surveillance program, a prognostic staging system has been created and, finally, new treatments particularly aimed at patients with advanced HCC have been developed. This fact has resulted in a greater interest in this tumour and several scientific societies have developed clinical practice guidelines for the management of patients with this disease. In this article, we review the current and future prospects of this tumour.
Keywords:
Hepatocellular carcinoma
Liver transplant
Radioembolization
Sorafenib
Regorafenib
Resumen
El carcinoma hepatocelular (CHC) es el sexto tumor más frecuente con más de 740.000 casos nuevos cada año y constituye la tercera causa de muerte por neoplasia, habiéndose descrito un aumento de su incidencia en los últimos años. Este tumor se desarrolla generalmente en pacientes con una enfermedad hepática crónica subyacente. En las 2 últimas décadas se ha producido un avance en su tratamiento: los pacientes de riesgo se incluyen en un programa de cribado, se ha desarrollado un sistema de estadificación pronóstica y finalmente han surgido nuevos tratamientos, sobre todo para aquellos pacientes con CHC avanzado. Este hecho ha motivado un mayor interés por este tumor y diversas sociedades científicas han elaborado guías de práctica clínica para el tratamiento de estos pacientes. En esta revisión presentamos una visión actual y futura de este tumor.
Palabras clave:
Carcinoma hepatocelular
Trasplante hepático
Radioembolización
Sorafenib
Regorafenib
Article
These are the options to access the full texts of the publication Medicina Clínica (English Edition)
Subscribe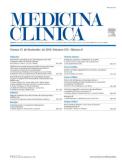 Subscribe to
Medicina Clínica (English Edition)
Contact
Phone for subscriptions and reporting of errors
From Monday to Friday from 9 a.m. to 6 p.m. (GMT + 1) except for the months of July and August which will be from 9 a.m. to 3 p.m.
Calls from Spain
932 415 960
Calls from outside Spain
+34 932 415 960
E-mail