Article information
Abstract
Full Text
Bibliography
Download PDF
Statistics
Abstract
The term cryptogenic stroke refers to a stroke for which there is no specific attributable cause after a comprehensive evaluation. However, there are differences between the diagnostic criteria of etiological classifications used in clinical practice. An improvement in diagnostic tools such advances in monitoring for atrial fibrillation, advances in vascular imaging and evidence regarding the implication of patent foramen oval on the risk of stroke specially in young patients are reducing the proportion of stroke patients without etiological diagnosis. We carried out a critical review of the current concept of cryptogenic stroke, as a non-diagnosis, avoiding the simplification of it and reviewing the different entities that could fall under this diagnosis and reviewing the different entities that could fall under this diagnosis; and therefore avoid the same treatment for differents entities with uncertains results.
Keywords:
Cryptogenic stroke
Advance Cardiac monitoring
Atherosclerotic plaques
Patent foramen oval
Resumen
El ictus criptogénico se define como aquel para el que no encontramos una etiología. Sin embargo, existe cierta heterogeneidad en los criterios para definir un ictus criptogénico entre las diferentes clasificaciones etiológicas de uso habitual. Los avances en sistemas de monitorización y detección de fuentes cardioembólicas, el avance de las técnicas de neuroimagen para la caracterización de la placa de ateroma, así como la mayor evidencia de la implicación del foramen oval permeable en el riesgo de ictus en pacientes jóvenes, hacen que cada vez menos ictus queden sin un diagnóstico etiológico. Realizamos una revisión crítica del concepto de ictus criptogénico como un «no diagnóstico», resaltando la importancia de realizar un estudio diagnóstico completo, evitando simplificaciones que pueden llevar a agrupar diferentes entidades que, aunque no identificadas, podrían subyacer al ictus criptogénico y, por tanto, a aplicar el mismo tratamiento preventivo a todas ellas, con resultados inciertos.
Palabras clave:
Ictus criptogénico
Monitorización cardíaca prolongada
Placa de ateroma
Foramen oval permeable
Article
These are the options to access the full texts of the publication Medicina Clínica (English Edition)
Subscribe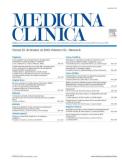 Subscribe to
Medicina Clínica (English Edition)
Contact
Phone for subscriptions and reporting of errors
From Monday to Friday from 9 a.m. to 6 p.m. (GMT + 1) except for the months of July and August which will be from 9 a.m. to 3 p.m.
Calls from Spain
932 415 960
Calls from outside Spain
+34 932 415 960
E-mail