Article information
Abstract
Full Text
Bibliography
Download PDF
Statistics
Abstract
Introduction and objective
Epicardial fat has been associated with increased cardiovascular risk and the development of atherosclerosis. Transthoracic echocardiography provides a reliable measurement of epicardial fat thickness (EFT). The aim of this study is to evaluate the relationship between EFT and biochemical parameters of metabolic risk.
Materials and method
We assessed 211 patients who underwent echocardiography; EFT was measured by two cardiologists. In addition, patients' glycaemia, lipid profile and serum uric acid were measured.
Statistical analysis was performed with the Pearson coefficient test and Odds ratio.
Results
A positive correlation between EFT with glycaemia (r=0.064), total serum cholesterol (r=0.0056), high density lipoproteins (r=–0.038), or with triglycerides (r=0.118) was not observed. However, we did find a significant positive correlation between EFT and serum uric acid (r=0.415, p<0.00001). The odds ratio for EFT>3mm in patients with hyperuricemia was 6.26 (IC 95 2.79–14, P<0.0001).
Conclusion
Hyperuricemia is strongly associated with EFT in Mexican patients; EFT is a useful tool for global cardiovascular risk calculation.
Keywords:
Epicardial fat
Uric acid
Cardiometabolic risk
Echocardiography
Resumen
Introducción y objetivo
La grasa epicárdica se asocia a riesgo cardiovascular y aterosclerosis, y puede ser medida en forma fiable por ecocardiografía. Nuestro objetivo es evaluar si existe asociación entre el grosor de la grasa epicárdica (GGE) con marcadores bioquímicos de riesgo metabólico.
Material y método
Evaluamos 211 pacientes en quienes se realizó la medición del GGE por ecocardiografía. También se les se realizó glucemia, perfil de lípidos y niveles séricos de ácido úrico. Los métodos estadísticos usados fueros odds ratio y coeficiente de correlación y determinación de Pearson.
Resultados
No encontramos correlación entre GGE con glucemia (r=0,064), colesterol total (r=0,005), colesterol ligado a lipoproteínas de alta densidad (r=–0,038), ni triglicéridos (r=0,118). Sin embargo, encontramos una correlación significativa entre el GGE con la uricemia (r=0,415, p<0,00001). La odds ratio para presentar GGE>3mm en pacientes con hiperuricemia fue de 6,26 (IC 95%: 2,79–14, p<0,0001).
Conclusión
La hiperuricemia se correlaciona significativamente con el GGE en nuestra población. La medición del GGE por ecocardiografía puede ser un método de utilidad para evaluar el riesgo cardiovascular.
Palabras clave:
Grasa epicárdica
Ácido úrico
Riesgo cardiometabólico
Ecocardiografía
Article
These are the options to access the full texts of the publication Medicina Clínica (English Edition)
Subscribe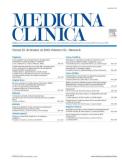 Subscribe to
Medicina Clínica (English Edition)
Contact
Phone for subscriptions and reporting of errors
From Monday to Friday from 9 a.m. to 6 p.m. (GMT + 1) except for the months of July and August which will be from 9 a.m. to 3 p.m.
Calls from Spain
932 415 960
Calls from outside Spain
+34 932 415 960
E-mail