Article information
Abstract
Full Text
Bibliography
Download PDF
Statistics
Abstract
The development of circulating autoantibodies able to inhibit some coagulation proteins induces severe or even life-threatening bleeding. This disorder is called acquired haemophilia. This is a rare disease, although its impact may be underestimated because of the lack of records, the lack of knowledge by many specialists, the complexity of the laboratory diagnosis and, finally, because of the fulminant clinical presentation that often precludes diagnosis. Several studies established that mortality ranges between 9 and 33%. Not only haematologists but all physicians should be trained to follow the right steps to diagnose these patients as soon as possible in order to reduce such mortality rates. This review approaches the basic concepts dealing with the diagnosis and management of these patients and intends to assist physicians in identifying patients under suspicion of acquired haemophilia to correctly manage them and refer them to the appropriate Haemostasis Unit.
Keywords:
Acquired haemophilia
Factor VIII
Factor VIII Inhibitor
Anti-Factor VIII autoantibodies
Antihaemorragic treatment
Eradication of factor VIII Inhibitor
Resumen
El desarrollo de autoanticuerpos circulantes que inhiban a los factores de la coagulación puede generar cuadros hemorrágicos graves y en ocasiones fatales. Esta entidad clínica se denominada hemofilia adquirida. Se incluye entre las enfermedades raras, aunque su incidencia puede estar infraestimada debido a la carencia de registros, a su desconocimiento por parte de muchos especialistas, a la complejidad de su diagnóstico en el laboratorio y, en ocasiones, a una presentación clínica tan fulminante que impide su confirmación. La mortalidad oscila entre el 9 y el 33% según las series. Para reducirla es importante que el clínico, aun no siendo especialista en hemostasia, conozca las pautas a seguir para obtener un diagnóstico precoz. Esta revisión pretende contribuir a la difusión de conceptos básicos para el diagnóstico y manejo de estos pacientes, así como para su derivación inmediata a una unidad de hematología en la que puedan recibir el tratamiento adecuado.
Palabras clave:
Hemofilia adquirida
Factor VIII
Inhibidor del factor VIII
Autoanticuerpos antifactor VIII
Tratamiento antihemorrágico
Erradicación del inhibidor del factor VIII
Article
These are the options to access the full texts of the publication Medicina Clínica (English Edition)
Subscribe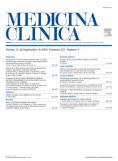 Subscribe to
Medicina Clínica (English Edition)
Contact
Phone for subscriptions and reporting of errors
From Monday to Friday from 9 a.m. to 6 p.m. (GMT + 1) except for the months of July and August which will be from 9 a.m. to 3 p.m.
Calls from Spain
932 415 960
Calls from outside Spain
+34 932 415 960
E-mail