Article information
Abstract
Full Text
Bibliography
Download PDF
Statistics
Resumen
Objetivo
Analizar y mejorar el proceso de atención a la hemorragia posparto mediante simulación y análisis del factor humano (interacción de los profesionales en el sistema donde trabajan).
Métodos
El proyecto se realizó entre junio de 2016 y mayo de 2017. El grupo de trabajo se creó según el método de liderazgo participativo incluyendo profesionales con conocimiento y cargo para influir en la organización. Se revisaron el proceso y los protocolos clínicos existentes. Se empleó la simulación clínica para la observación directa en el hospital y se analizó su rendimiento. Se amplió la información obtenida mediante entrevista abierta y estructurada a profesionales seleccionados por su experiencia en el tema a estudio. Se utilizó un análisis de tareas para documentar el proceso, y un análisis de modo de fallos y efectos para evaluar vulnerabilidades del sistema. Los resultados se representaron mediante un flujograma.
Resultados
El análisis identificó seis grupos de personas trabajando en tareas diferentes, su secuencia de actuación, la importancia de explicitar un coordinador, el modo en que se propaga y transforma la información, y los puntos donde es necesario tomar decisiones clave y compartir la información. Se integraron los protocolos existentes y ayudas para utilizar los recursos disponibles, como la extracción de analíticas y la administración de hemostáticos.
Conclusiones
El análisis del proceso de asistencia a una paciente con hemorragia posparto utilizando la simulación clínica, junto con el análisis del factor humano, que estudia la interacción de los profesionales entre sí y con el sistema donde trabajan, permitieron establecer un mapa detallado y personalizado de los componentes que determinan como el trabajo fluye a través de la organización.
Palabras clave:
Ergonomía
Organizacional
Eficiencia
Evaluación de procesos y resultados
Algoritmos
Hemorragia posparto
Abstract
Objective
To analyse and redesign the care process for patients with severe post-partum haemorrhage using simulation and a human factors approach.
Methods
The project was developed between June 2016 and May 2017. The working group was created following the participatory leadership method and included professionals with knowledge and position to influence the organisation. The existing process and clinical protocols were reviewed. An in situ simulation was used to observe team performance in the hospital recovery room. Information was expanded through an open and structured interview with professionals selected for their experience in the subject matter. Task analysis was used to document the process, and a failure mode and effects analysis was made to assess system vulnerabilities. Results were mapped using a flow chart.
Results
The analysis identified six groups of people working on different tasks, their activities and sequence of action, the importance of naming an explicit coordinator, the way in which information is disseminated and transformed, and the stages where it is necessary to share information and make key clinical decisions. The existing clinical protocols and the aids established in order to use the available resources were integrated, including blood draws and haemostatic agents, as well as an administration guide.
Conclusions
The analysis of the patient care process in post-partum haemorrhage using in situ simulation with a human factors perspective, including an analysis of the interaction between professionals and the system where they work, established a detailed and personalised map of the components that determine how work flows through the organisation.
Keywords:
Ergonomics
Organisational
Efficiency
Outcome and process assessment
Algorithms
Post-partum haemorrhage
Article
These are the options to access the full texts of the publication Journal of Healthcare Quality Research
Subscribe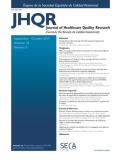 Subscribe to
Journal of Healthcare Quality Research
Contact
Phone for subscriptions and reporting of errors
From Monday to Friday from 9 a.m. to 6 p.m. (GMT + 1) except for the months of July and August which will be from 9 a.m. to 3 p.m.
Calls from Spain
932 415 960
Calls from outside Spain
+34 932 415 960
E-mail