Article information
Abstract
Full Text
Bibliography
Download PDF
Statistics
Resumen
Introducción
La bioética y la evaluación de tecnologías sanitarias surgieron para ayudar a tomar decisiones. El objetivo del trabajo fue conocer, con respecto a la evaluación de tecnologías sanitarias, la producción científica acerca de sus aspectos éticos, el grado de incorporación de estos en su práctica, la inclusión de los valores en los procesos deliberativos y los modelos de análisis éticos más relevantes.
Metodología
Se realizó una revisión narrativa, a partir de una búsqueda sistemática de la literatura, tanto en lenguaje natural como jerarquizado, utilizando los términos technology assessment biomedical, ethics y deliberation (y sus términos relacionados). Se incluyeron todo tipo de trabajos publicados entre mayo del 2007 y abril del 2017 en español, francés, inglés o italiano, que incluyesen tanto aspectos éticos como evaluación de tecnologías sanitarias. Se exploraron las bases de datos PUBMED, OVID-Medline, Scopus y búsquedas secundarias a partir de los trabajos identificados. La información fue extraída por un único investigador y gestionada con Mendeley y EPIINFO 7.2.
Resultados
Se identificaron 141 trabajos, incluyéndose 85 tras la revisión por título y resumen, con las siguientes características: 29 revisiones (5 sistemáticas), 16 marcos de referencia, 18 metodológicos y 29 con descripción de experiencias. Se identificaron múltiples marcos de referencia de integración de ambas disciplinas, de enfoques y de métodos en el análisis ético.
Conclusión
La evaluación de tecnologías sanitarias tiene un enfoque excesivamente mecanicista; puede mejorarse con la incorporación de los valores de las partes interesadas, a través de procesos deliberativos. Los métodos de análisis ético que parecen más adecuados son los axiológicos y los desarrollados específicamente para la evaluación de tecnologías sanitarias.
Palabras clave:
Evaluación de tecnologías sanitarias
Ética
Toma de decisiones
Abstract
Introduction
Bioethics and the health technologies assessment emerged to help make decisions. The objective of the work was to know, with respect to the health technologies assessment, the scientific production on its ethical issues, the degree of incorporation of these in practice, the inclusion of the values in the deliberative processes and the most relevant approaches to ethical analysis.
Methodology
A narrative review was made, based on a systematic search of literature in both natural and hierarchical language, using the terms technology assessment biomedical, ethics and deliberation (and its related terms). All types of papers published between May 2007 and April 2017 in Spanish, French, English or Italian that included both ethical aspects and health technology assessment were included. The PUBMED, OVID-Medline, Scopus databases and secondary searches were explored from the identified works. The information was extracted by a single researcher and managed with Mendeley and EPIINFO 7.2.
Results
A total of 141 papers were identified, including 85 after revision by title and summary, with the following characteristics: 29 reviews (5 systematic), 16 frameworks, 18 methodological works and 29 with description of experiences. Multiple frameworks, approaches and methods in ethical analysis were identified.
Conclusion
The health technologies assessment has an approach excessively mechanistic, and can be improved by incorporating the values of the stakeholder, through deliberative processes. The methods of ethical analysis that seem most suitable are the axiological ones and those developed specifically for the health technologies assessment.
Keywords:
Health Technology Assessment
Ethics
Decision making
Article
These are the options to access the full texts of the publication Journal of Healthcare Quality Research
Subscribe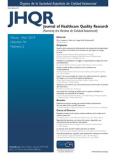 Subscribe to
Journal of Healthcare Quality Research
Contact
Phone for subscriptions and reporting of errors
From Monday to Friday from 9 a.m. to 6 p.m. (GMT + 1) except for the months of July and August which will be from 9 a.m. to 3 p.m.
Calls from Spain
902 88 87 40
Calls from outside Spain
+34 932 418 800
E-mail