Article information
Abstract
Full Text
Bibliography
Download PDF
Statistics
Abstract
Aim
Determine the effect of an intervention to reduce the length of stay (LOS) in appendectomies.
Methods
A four-quarter quality improvement initiative was developed after approval by the facility Quality Management Department, including educational sessions about the best practices regarding the hospital care for patients with appendicitis and recommendations to limit the LOS for no complicated appendicitis unless associated conditions were present, monitoring of the LOS and feedback to the staff and leaders.
Results
692 appendectomies were performed, 365 (52.7%)) of them during the intervention. The mean LOS was 3.94 days with a decreasing trend during the study period. The complicated appendicitis had a mean LOS of 6.42 days (SD, 3.85) during the baseline and 5.27 days (SD 2.50) during the intervention (p=0.03), representing a 17.9% reduction. The not complicated appendicitis during baseline had LOS of 3.82 days (SD 4.17) with a subsequent reduction to 2.95 days (SD 1.53) in the intervention. The total saving bed days during the intervention were 338.04 days, which 254.04 days (75.2%) were in non complicated appendectomies. One patient required readmission during the intervention because of an organ space surgical site infection, with proper recovery after antibiotic treatment.
Conclusion
Our study provides evidence about the possibility to optimize the bed use with a simple educational intervention, and should be considered a step to achieve additional reductions in the hospital stay of patients who undergo laparoscopic appendectomies.
Keywords:
Bed use
Appendicitis
Quality improvement
Qatar
Resumen
Objetivo
Determinar el efecto de una intervención para reducir la estancia hospitalaria (LOS) en las apendicectomías.
Métodos
Previa aprobación por el comité de calidad se desarrolló una intervención que incluyó sesiones educativas sobre las mejores prácticas en la atención hospitalaria para pacientes con apendicitis y recomendaciones para limitar la estadía hospitalaria, monitoreo de la estadía y retroalimentación al personal y a los líderes.
Resultados
Se realizaron 692 apendicectomías, 365 (52,7%) de ellas durante la intervención. La estancia hospitalaria fue de 3,94 días con una tendencia decreciente durante el período de estudio. La apendicitis complicada tuvo una estancia de 6,42 días (desviación estándar [DE] 3,85) durante el periodo pre-intervención y de 5,27 días (DE 2,50) durante la intervención (p=0,03), lo que representa una reducción del 17,9%. En la apendicitis no complicada durante la pre-intervención la estancia fue de 3.82 días (DE, 4.17) con una reducción a 2,95 días (DE 1,53) durante la intervención. El ahorro total de días de cama durante la intervención fue de 338,04 días, de los cuales 254,04 días (75,2%) fueron en apendicectomías no complicadas. Un paciente requirió reingreso durante la intervención debido a una infección en el sitio quirúrgico órgano y espacios, con una recuperación adecuada después del tratamiento con antibióticos.
Conclusión
Nuestro estudio proporciona evidencias sobre la posibilidad de optimizar el uso de la cama con una intervención educativa simple, siendo posible lograr reducciones adicionales en la estancia hospitalaria de los pacientes que se someten a apendicectomías laparoscópicas.
Palabras clave:
Uso de camas
Apendicitis
Mejora de la calidad
Qatar
Article
These are the options to access the full texts of the publication Journal of Healthcare Quality Research
Subscribe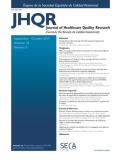 Subscribe to
Journal of Healthcare Quality Research
Contact
Phone for subscriptions and reporting of errors
From Monday to Friday from 9 a.m. to 6 p.m. (GMT + 1) except for the months of July and August which will be from 9 a.m. to 3 p.m.
Calls from Spain
932 415 960
Calls from outside Spain
+34 932 415 960
E-mail