Article information
Abstract
Full Text
Bibliography
Download PDF
Statistics
Abstract
Objectives
The experience of students contributes to proactively identifying the changes necessary in training approaches and activities. The main objective of the Institutional Evaluation Programme was to design and validate a tool that permits discerning the experience of students from traumatology teaching.
Methods
Lecturers from the Orthopaedic Surgery Teaching Unit and experts in quality evaluation methodology, prepared the initial items. In this study, a descriptive analysis was carried out first, followed by an analysis of internal consistency and reliability, construction validity, and predictive validity.
Results
The results (Cronbach's alpha=0.58, Inter-Item Correlations >0.5, Eigenvalues >0.6, factor loadings, and the Student t-test values) confirmed its reliability and validity.
Conclusions
The developed scale is reliable and valid to assess the experience of students. The use of a tool with these characteristics systematically contributes to improve teaching quality.
Keywords:
Education
Traumatology
Medical student
Questionnaire
Resumen
Objetivos
Las valoraciones del alumnado permiten identificar cambios necesarios en la organización y contenidos de las prácticas clínicas. El objetivo del Programa Institucional de Evaluación fue diseñar y validar un instrumento para capturar sus valoraciones de la enseñanza práctica en traumatología.
Método
Profesores de la unidad docente de Cirugía Ortopédica y expertos en calidad educativa elaboraron una propuesta inicial de dimensiones a explorar, y se diseñó un estudio de campo para determinar consistencia y validez de construcción y predictiva.
Resultados
Los resultados (alfa de Cronbach; 0,58; correlaciones ítem-total: >0,5; Eigenvalues: >0,6; saturaciones factoriales y T-test) verifican la consistencia y validez del instrumento.
Conclusiones
Este instrumento permite capturar la experiencia del alumnado con fiabilidad y validez. El uso sistemático de un instrumento como este contribuye a la calidad de la enseñanza.
Palabras clave:
Educación
Traumatología
Estudiantes de medicina
Cuestionario
Article
These are the options to access the full texts of the publication Journal of Healthcare Quality Research
Subscribe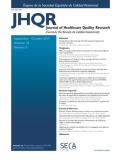 Subscribe to
Journal of Healthcare Quality Research
Contact
Phone for subscriptions and reporting of errors
From Monday to Friday from 9 a.m. to 6 p.m. (GMT + 1) except for the months of July and August which will be from 9 a.m. to 3 p.m.
Calls from Spain
932 415 960
Calls from outside Spain
+34 932 415 960
E-mail