Full Text
Pneumatosis intestinalis is an uncommon condition that is characterised by air in the wall of the gastrointestinal (GI) tract. Although it can affect any stretch of the GI tract, it is most prevalent in the small intestine (42%), colon (36%) or both (22%).1
According to a series of autopsies, overall incidence in the general population is 0.03%,2 and although it affects both sexes, it is more common in males, with peak prevalence between the ages of 30 and 50 years.3
We present the case of a 62-year-old female patient with a history of smoking and paranoid schizophrenia, on treatment with risperidone, quetiapine and lorazepam. She attended the Emergency Department due to approximately 24 h of diffuse abdominal pain associated with nausea, vomiting and lack of intestinal transit.
During the physical examination, her abdomen was soft and non-tender, tympanic and painless upon palpation. The blood panel found no pathological abnormalities of interest: leukocytes within normal range, procalcitonin 0.04 ng/ml and C-reactive protein 16 mg/l. However, the computed tomography (CT) scan revealed a large amount of ectopic air suggestive of pneumoperitoneum, as well as jejunal loops with unstructured intestinal wall, which is consistent with bowel perforation (Fig. 1A,B). In light of these findings, it was decided to perform an exploratory laparoscopy, which found extensive pneumatosis in most of the small intestine, with no free fluid or suspected perforation lesions or intestinal ischaemia (Fig. 1C,D). No further surgical procedure was performed and conservative treatment with fluid therapy, intravenous metronidazole, analgesia and bowel rest was prescribed. The post-operative period was incident-free and the patient was discharged on the 10th day after surgery.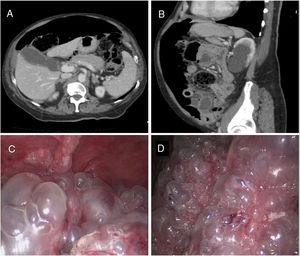 Figure 1.
Axial (A) and sagittal (B) slices of the axial CT of the abdomen and pelvis with intravenous contrast; abundant pneumoperitoneum and thickening of the walls of the small intestine with unstructured wall at the jejunum. The intraoperative exploratory laparoscopy images (C and D) show multiple subserous air cysts in the wall of the small intestine.
(0.18MB).
To explain the aetiopathogenesis of pneumatosis intestinalis, St Peter et al.1 put forward three theories: the mechanical theory, which attributes the presence of air in the bowel wall to a state of intraluminal hyperpressure and mucosal damage that pushes gas into the wall; the bacterial theory, which proposes that the air is produced by gas-forming anaerobic bacteria (Clostridium difficile and Clostridium perfringens); and the pulmonary theory, which postulates that the increased intrathoracic pressure in patients with lung disease (asthma, COPD) causes the alveoli to rupture, where the extravasation of the gas reaches the mediastinum, the retroperitoneal space, the mesentery and, finally, the intestinal serosa.
In adults, two forms of pneumatosis intestinalis have been reported: primary or idiopathic (15%), also known as pneumatosis cystoides intestinalis, which is benign and is not associated with any other underlying cause; and secondary pneumatosis intestinalis (85%), which is much more common and is associated with other processes, including intestinal ischaemia, obstruction, volvulus of the bowel, neoplasia, inflammatory diseases (acute diverticulitis, Crohn's disease, ulcerative colitis), lung diseases (asthma, COPD), autoimmune diseases, infections (C. difficile, HIV, cytomegalovirus), trauma (post-surgical, post-endoscopic) and the use of certain drugs (corticosteroids, immunosuppressants).1 Several case series associated with immunotherapy have been published recently, which found bevacizumab and sunitinib to be the drugs most commonly associated with pneumatosis intestinalis.4
Most cases are asymptomatic and the abdominal examination is usually unremarkable, although some patients may manifest signs of acute abdomen. The symptoms most commonly associated with pneumatosis intestinalis are abdominal pain, diarrhoea or constipation, vomiting, rectorrhagia, weight loss and tenesmus.1–5
Radiological diagnosis is complex and not always feasible. A simple X-ray and CT scan can be used to detect pneumoperitoneum or air cysts in the intestinal wall, with the latter being the imaging test of choice.1 The primary or benign form is characterised by subserosal or submucosal air cysts in the intestinal wall anywhere along the GI tract, while in the secondary form, the gas is linear or circumferential.1,5
Treatment for pneumatosis intestinalis must be personalised in accordance with the specific clinical symptoms of each individual patient. Asymptomatic patients do not require any specific treatment, while patients with mild symptoms may require conservative treatment with intravenous antibiotic therapy (metronidazole is considered the antibiotic of choice), gastric decompression, hyperbaric oxygen therapy and sclerotherapy. In patients with severe symptoms (perforation, obstruction, haemorrhage, volvulus of the bowel or portal pneumatosis), pneumatosis intestinalis may be indicative of a life-threatening intra-abdominal process, requiring emergency surgery.1,3,5
Funding
This research did not receive specific financial support from public sector agencies, the commercial sector or non-profit organisations.
Conflict of interests
The authors declare that they have no conflict of interests.
Please cite this article as: Balciscueta Coltell I, Álvarez Martínez D, Blanco González FJ. Neumatosis intestinal. Una causa poco frecuente de abdomen agudo. Gastroenterol Hepatol. 2019;42:557–558.
Copyright © 2019. Elsevier España, S.L.U.. All rights reserved