Received 16 January 2018. Accepted 08 May 2018
Article information
Abstract
Full Text
Bibliography
Download PDF
Statistics
Abstract
Ribavirin is a molecule with antiviral activity against different viruses. In clinical practice, it has made its niche almost exclusively for the treatment of the hepatitis C virus. However, there are other diseases in which it could be of benefit and it has the advantage of being suitable for oral, intravenous and inhaled administration. We conducted a review of the indications of the main drug agencies (Spanish, European and American) and other possible indications, mainly haemorrhagic fevers and coronavirus.
Keywords:
Ribavirin
Virazole
1-f8-
d
-Ribofuranosyl-1,2,4-triazole-3-carboxamide
Resumen
La ribavirina es una molécula con actividad antiviral sobre diferentes virus. Ha encontrado su hueco en la práctica clínica de forma casi exclusiva para el tratamiento del virus de la hepatitis C, pero existen otras enfermedades que podrían beneficiarse de su empleo. Su disponibilidad para administración por vía oral, por vía intravenosa e inhalada es una característica beneficiosa. En este trabajo se realiza una revisión de las indicaciones en las principales agencias del medicamento (española, europea y americana), así como de otras posibles indicaciones, principalmente sobre fiebres hemorrágicas y coronavirus.
Palabras clave:
Ribavirina
Virazole
1-f8-
d
-Ribofuranosil-1,2,4-triazol-3-carboxamida
Article
These are the options to access the full texts of the publication Enfermedades Infecciosas y Microbiología Clínica (English Edition)
Subscribe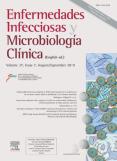 Subscribe to
Enfermedades Infecciosas y Microbiología Clínica (English Edition)
Contact
Phone for subscriptions and reporting of errors
From Monday to Friday from 9 a.m. to 6 p.m. (GMT + 1) except for the months of July and August which will be from 9 a.m. to 3 p.m.
Calls from Spain
932 415 960
Calls from outside Spain
+34 932 415 960
E-mail