Article information
Abstract
Full Text
Bibliography
Download PDF
Statistics
Abstract
The disadvantages of the long-term administration of antiretroviral therapy as well as the huge number of affected persons have placed the cure of HIV as a primary goal of Public Health. HIV may persist in the organism by at least four mechanisms: a latently infected cellular reservoir, the persistent replication of HIV in spite of antiretroviral therapy (ART), anatomic sanctuaries, and the immune dysfunction. Several strategies directed against these mechanisms have been developed. With all this, a complete eradication of HIV has been achieved in a patient using the transplantation of haemopoietic stem cells that were resistant to HIV-infection, and there are examples of functional cure either spontaneously (elite controllers) or after antiretroviral therapy (post-treatment controllers). However, no strategies have been successful in reducing the reservoir size, nor in achieving constant, uniform remissions. The failure of isolated strategies makes it likely that the combination of several of them may be the future solution.
Keywords:
HIV
Latency
Reservoirs
Eradication
Functional cure
Resumen
Los inconvenientes de la administración indefinida del tratamiento antirretroviral y el enorme número de personas infectadas convierten la cura del VIH en un objetivo primordial de salud pública. El VIH puede persistir en el organismo por al menos cuatro mecanismos: un reservorio celular latentemente infectado, la replicación persistente a pesar del tratamiento, los santuarios anatómicos y la disfunción inmunológica. Se han desarrollado estrategias para erradicar el VIH haciendo frente a estos mecanismos. Hasta el momento, se ha conseguido la erradicación completa del virus en un paciente mediante el trasplante de progenitores hematopoyéticos resistentes a la infección y existen casos de curación funcional de modo natural (controladores de élite) o tras tratamiento antirretroviral (controladores postratamiento). Sin embargo, ninguna estrategia ha conseguido disminuir el reservorio, ni lograr remisiones de modo constante y uniforme. El fracaso de las estrategias aisladas sugiere que la combinación de varias de ellas sea la solución futura.
Palabras clave:
VIH
Latencia
Reservorios
Erradicación
Curación funcional
Article
These are the options to access the full texts of the publication Enfermedades Infecciosas y Microbiología Clínica (English Edition)
Subscribe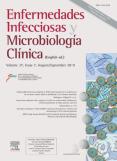 Subscribe to
Enfermedades Infecciosas y Microbiología Clínica (English Edition)
Contact
Phone for subscriptions and reporting of errors
From Monday to Friday from 9 a.m. to 6 p.m. (GMT + 1) except for the months of July and August which will be from 9 a.m. to 3 p.m.
Calls from Spain
932 415 960
Calls from outside Spain
+34 932 415 960
E-mail