Article information
Abstract
Full Text
Bibliography
Download PDF
Statistics
Resumen
En el mundo todavía no existe un acuerdo sobre los criterios éticos para continuar o suspender los cuidados intensivos neonatales. Se usa muy a menudo el criterio del mejor interés o un criterio basado en las semanas de desarrollo fetal al nacimiento. Sin embargo, ambos criterios tienen defectos que serán explicados en el texto. Proponemos, para resolver este dilema y las críticas sobredichas, un criterio nuevo, llamado «criterio del dolor», según el cual los cuidados intensivos pueden ser interrumpidos o aliviados en caso de dolor o estrés evidentes e intratables. En el texto se explica cómo es posible medir correctamente el dolor en el recién nacido. Suspender los tratamientos por miedo de una futura discapacidad, si no está asociado con la presencia del dolor, no es éticamente aceptable.
Palabras clave:
Recién nacido
Cuidados intensivos
Dolor
Estrés
Abstract
There is still no published agreement on the ethical criteria to continue or suspend neonatal intensive care anywhere in the world. The criteria of best interest or a criterion based on the weeks of foetal development at birth are very often used. However, both criteria have defects that are explained in the text. In order to solve this dilemma and the aforementioned criticisms, propose a new criterion is proposed, called the "pain principle", according to which intensive care can be interrupted or improved in the case of obvious or intractable pain or stress. Explanations will be given in the text on the correct ways to measure pain and stress in newborns. Suspending treatments for fear of a future disability, without the presence of pain, is not ethically acceptable.
Keywords:
Newborn
Intensive care
Pain
Stress
Article
These are the options to access the full texts of the publication BIOETHICS UPdate
Subscribe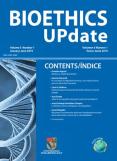 Subscribe to
BIOETHICS UPdate
Contact
Phone for subscriptions and reporting of errors
From Monday to Friday from 9 a.m. to 6 p.m. (GMT + 1) except for the months of July and August which will be from 9 a.m. to 3 p.m.
Calls from Spain
932 415 960
Calls from outside Spain
+34 932 415 960
E-mail