Article information
Abstract
Full Text
Bibliography
Download PDF
Statistics
Abstract
2018 is the 100th anniversary of an influenza epidemic that took the lives of between fifty and a hundred million people. Traditional medical ethics places the primary obligation of medical personnel on the care of individual patients. Yet in a time of pandemic emergency, the shear scope of demand for medical treatment may well make it impossible to meet both the public health needs of collective humanity and the collected needs of individual patients. Medical ethics must address this dilemma.
Keywords:
Duty to populations
Influenza
Medical ethics
Pandemic
Public health
Resumen
Dos mil dieciocho es el centésimo aniversario de una epidemia de influenza que ha cobrado entre 50 y 100 millones de víctimas. La ética médica tradicional coloca la obligación primaria del personal médico en la atención de pacientes individuales. Sin embargo, en tiempos de emergencia de pandemia, el puro y simple ámbito de las demandas de tratamiento médico puede hacer imposible satisfacer al mismo tiempo las exigencias de salud pública de la humanidad entera y del conjunto de las necesidades de los pacientes individuales. La ética médica tiene que enfocar este dilema.
Palabras clave:
Deberes hacia la población
Influenza
Ética médica
Pandemia
Salud pública
Article
These are the options to access the full texts of the publication BIOETHICS UPdate
Subscribe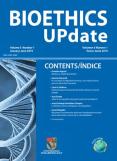 Subscribe to
BIOETHICS UPdate
Contact
Phone for subscriptions and reporting of errors
From Monday to Friday from 9 a.m. to 6 p.m. (GMT + 1) except for the months of July and August which will be from 9 a.m. to 3 p.m.
Calls from Spain
932 415 960
Calls from outside Spain
+34 932 415 960
E-mail