Article information
Abstract
Full Text
Bibliography
Download PDF
Statistics
Resumen
La Comisión Nacional de Bioética de México (CONBIOÉTICA) tiene el compromiso de fortalecer a los Comités Hospitalarios de Bioética y de Ética en Investigación del Sector Salud; por esta razón se estableció la Red Nacional de Apoyo a la Capacitación en Bioética para Comités de Ética en Investigación y Hospitalarios de Bioética. El objetivo de este instrumento consiste en fortalecer la infraestructura institucional en bioética, al satisfacer las necesidades de información y capacitación de los integrantes de estos comités, generando sinergias para el desarrollo y aplicación de la bioética en el país, en favor de los derechos humanos y dignidad de los usuarios de los servicios de salud.
Palabras clave:
Bioética
Comités de Bioética
Comités de ética en investigación
Capacitación
Investigación
Abstract
The National Commission of Bioethics in Mexico (CONBIOÉTICA) has undertaken the commitment to empower the Hospital Bioethics Committees and the Research Ethics Committees for the Healthcare industry, thus founding the National Support Network for Bioethics Training intended for Hospital and Research Bioethics Committees. The purpose of this tool is to strengthen the institutional infrastructure in Bioethics, by meeting the need for information and training amongst the members of said committees, thus boosting synergies for the development and application of Bioethics throughout the country, thereby supporting human rights and promoting the dignity of the users of healthcare services.
Keywords:
Bioethics
Bioethics Committees
Research Ethics Committees
Training
Research
Article
These are the options to access the full texts of the publication BIOETHICS UPdate
Subscribe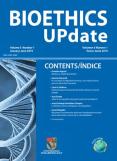 Subscribe to
BIOETHICS UPdate
Contact
Phone for subscriptions and reporting of errors
From Monday to Friday from 9 a.m. to 6 p.m. (GMT + 1) except for the months of July and August which will be from 9 a.m. to 3 p.m.
Calls from Spain
932 415 960
Calls from outside Spain
+34 932 415 960
E-mail