Article information
Abstract
Full Text
Bibliography
Download PDF
Statistics
Resumen
La investigación intitulada «La libertad en la eugenesia liberal: reflexiones sobre el papel del Estado» tiene su origen en el interés de poner en evidencia una contradicción que se ha vuelto «lugar común» de los discursos políticos, filosóficos y bioéticos, y es aquella tesis que sostiene que hablar de límites éticos a la ciencia y a la tecnología se considera un atentado contra la libertad, por lo cual una postura que pretenda ser eminentemente liberal debería partir de la aprobación absoluta de cualquier práctica, siendo el factor legitimador la mera voluntad de los individuos, y derivándose de este razonamiento aquella posición simplista que afirma que los Estados deben guardar silencio frente a cuestiones éticas y morales. Tal «lugar común», creemos desconoce la tradición liberal defensora de los derechos humanos, la cual otorga un papel preponderante al Estado como garante de los mismos, el cual no es de ninguna manera un papel secundario, ni mucho menos neutral.
Palabras clave:
Eugenesia liberal
Libertad
Estado
Persona
Genética
Ciencia
Abstract
The study entitled 'Freedom in liberal eugenics: reflections on the role of the State' has its origin in the interest of highlighting a contradiction that has become 'common place' in political, philosophical, and bioethical discourses; and this argument states the ethical limits of science and technology is considered an attempt against freedom. Therefore, this position, which intends to be eminently liberal, should start from the absolute approval of any practice being the crucial legitimising factor of individual wills. From this reasoning is deduced a simplistic position that claims that the State should remain silent in the face of ethical and moral issues. Such 'common place', we believe, does not recognise the liberal tradition that protects the human rights, providing a predominant role of the State as the guardian of these, and this is by no means neutral.
Keywords:
Liberal eugenics
Freedom
State
Person
Genetics
Science
Article
These are the options to access the full texts of the publication BIOETHICS UPdate
Subscribe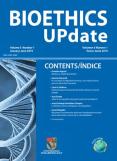 Subscribe to
BIOETHICS UPdate
Contact
Phone for subscriptions and reporting of errors
From Monday to Friday from 9 a.m. to 6 p.m. (GMT + 1) except for the months of July and August which will be from 9 a.m. to 3 p.m.
Calls from Spain
932 415 960
Calls from outside Spain
+34 932 415 960
E-mail