Article information
Abstract
Full Text
Bibliography
Download PDF
Statistics
Resumen
En 1970 Potter comienza a reflexionar sobre la necesidad de un nuevo conocimiento que sea capaz de dar una respuesta a los nuevos problemas ocasionados por el exponencial avance tecnocientífico, especialmente en el ámbito de las ciencias de la salud. Tras más de 4 décadas de una reflexión bioética intensa desde diferentes planteamientos, hoy ya parece necesario complementar los actuales conocimientos bioéticos con otras corrientes de pensamiento y autores que amplíen nuestro corpus bioético para intentar solucionar los complejos problemas que tienen relación con el ámbito de la vida, en nuestro actual mundo multicultural y globalizado. Precisamente, por esta última cuestión política, la biopolítica parece un conocimiento necesario también para incorporar hoy a la bioética. En este somero artículo se reflexiona sobre sus relaciones con el objetivo final práctico de mejorar la asistencia sanitaria diaria a los pacientes.
Keywords:
Bioética
Biopolítica
Foucault
Cuidados
Mirada bioética
Abstract
In 1970, Potter began to think about the need for a new knowledge which could answer the new problems caused by exponential techno-scientific progress, particularly in health sciences. Over the course of four decades of an intense bioethics reflection from different orientations, it now appears necessary to complement the current bioethics knowledge with other ways of thinking and with thinkers that allow us to complete a new broad body of bioethics knowledge that could solve the complex problems about life in a multicultural and globalised world. Thus, thinking about this latter political question, biopolitics also seems to be a necessary knowledge to now incorporate into bioethics. This brief paper is about the relationships between bioethics and biopolitics, with the final practical aim to improve our patient daily health care.
Keywords:
Bioethics
Biopolitics
Foucault
Care
Bioethical point of view
Article
These are the options to access the full texts of the publication BIOETHICS UPdate
Subscribe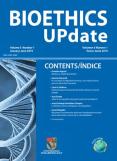 Subscribe to
BIOETHICS UPdate
Contact
Phone for subscriptions and reporting of errors
From Monday to Friday from 9 a.m. to 6 p.m. (GMT + 1) except for the months of July and August which will be from 9 a.m. to 3 p.m.
Calls from Spain
932 415 960
Calls from outside Spain
+34 932 415 960
E-mail