Article information
Abstract
Full Text
Bibliography
Download PDF
Statistics
Resumen
En los últimos años diversas tecnologías han comenzado a aplicarse de modo directo sobre el ser humano. Las tecnologías se convierten así en antropotecnias (sección 1). El desarrollo y aplicación de las antropotecnias suscita problemas bioéticos. Con demasiada frecuencia estos problemas se estructuran como dilemas, en los que se nos da a elegir entre la aceptación acrítica de las nuevas antropotecnias o el rechazo completo de las mismas. Los polos del dilema se suelen poner en conexión con las direcciones del tiempo, de modo que el rechazo de toda antropotecnia sería sinónimo de apego al pasado, mientras que la aceptación de las mismas nos proyectaría hacia un futuro marcado por la mejora humana (sección 2). El presente artículo trata de exponer y criticar esta visión de las cosas, así como de presentar un criterio y una actitud que nos permitan orientar de modo proactivo el desarrollo y aplicación de las antropotecnias (sección 3). Para identificar el criterio nos valdremos de algunas ideas de Hans Jonas sobre lo que es una vida auténticamente humana. Para identificar la actitud buscaremos inspiración en algunos textos de Kierkegaard y de Heidegger.
Palabras clave:
Antropotecnia
Dilemas
Creatividad
Serenidad
Abstract
In the recent years, some technologies have begun to be applied directly on the human being. These technologies have thus become anthropotechnics (Section 1). The development and implementation of these anthropotechnics raises several bioethical problems. Too often, these problems have been structured into the form of a dilemma in which we are forced to choose between the uncritical acceptance of the new anthropotechnics and a complete rejection of them. The poles of this dilemma are usually put in connection with the directions of time, so that the rejection of all anthropotechnics would be synonymous with attachment to the past, while the plain acceptance would cast us into a future marked by human enhancement (Section 2). This article tries to explain and criticise this approach, as well as to present a criterion and an attitude that will allow us to guide the development and implementation of new anthropotechnics (Section 3). In oreder to identify the criterion, some ideas by Hans Jonas will be used. To identify the attitude, inspiration will be found in some texts by Kierkegaard and Heidegger.
Keywords:
Anthropotechnics
Dilemma
Creativity
Serenity
Article
These are the options to access the full texts of the publication BIOETHICS UPdate
Subscribe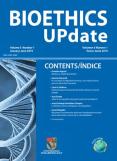 Subscribe to
BIOETHICS UPdate
Contact
Phone for subscriptions and reporting of errors
From Monday to Friday from 9 a.m. to 6 p.m. (GMT + 1) except for the months of July and August which will be from 9 a.m. to 3 p.m.
Calls from Spain
932 415 960
Calls from outside Spain
+34 932 415 960
E-mail