Article information
Abstract
Full Text
Bibliography
Download PDF
Statistics
Abstract
Bioethics began in the 1980s in China, being borrowed and introduced from western countries. But the Chinese bioethics has been seeking a different model from western bioethics, grounded on its philosophical basis and cultural environment. Some significant progress has been achieved in the academic field of bioethics, the policy makers and government regulation. Though China shares some common bioethical issues and discussion with other countries, China is facing some special challenges, including Doctor-Patient-Relationship, and health inequality in health care reform.
Keywords:
Chinese bioethics
Chinese ethical values
Confucian ethics
Cultural challenges of ethics
intercultural ethics
Resumen
En China, la bioética comenzó en la década de 1980, traída y adoptada desde países occidentales. Pero la bioética china ha buscado un modelo diferente a la occidental, fundamentado en las bases filosóficas y culturales propias de esta región. Se han logrado avances significativos en el campo académico de la bioética, así como entre los creadores de políticas y regulaciones gubernamentales. Si bien China comparte cuestiones y debates bioéticos comunes con otros países, esta nación se enfrenta a desafíos especiales, tales como la relación médico-paciente y la inequidad en la atención médica en la reforma sanitaria.
Palabras clave:
Bioética china
Valores éticos chinos
Ética confucionista
Desafíos culturales de la ética
ética intercultural
Article
These are the options to access the full texts of the publication BIOETHICS UPdate
Subscribe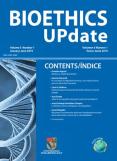 Subscribe to
BIOETHICS UPdate
Contact
Phone for subscriptions and reporting of errors
From Monday to Friday from 9 a.m. to 6 p.m. (GMT + 1) except for the months of July and August which will be from 9 a.m. to 3 p.m.
Calls from Spain
932 415 960
Calls from outside Spain
+34 932 415 960
E-mail