Article information
Abstract
Full Text
Bibliography
Download PDF
Statistics
Abstract
This paper problematizes the concept of individual autonomy in the on-going project of attempting to understand and construct global principles of bioethics. We argue that autonomy as it is commonly defined and interpreted, and the emphasis that is placed on it, presupposes an individualistic concept of the self, family, and community that arises out of a Euro- Western liberal tradition and that is often in tension with various non-Western perspectives. We conclude that a more globally dialogical approach to bioethics is required.
Keywords:
Bioethics
Medical ethics
Meta-ethics
Global ethics
Individual autonomy
Cultural diversity
Resumen
Este ensayo problematiza el concepto de autonomía individual con relación al proyecto en curso por comprender y construir principios globales para la bioética. Nuestro argumento es que la autonomía, tal como es corrientemente definida e interpretada, y el énfasis que se pone en ella, presupone una noción individualista de la persona y de la sociedad que deriva de la tradición liberal Euro-Occidental. Ese individualismo está frecuentemente en tensión con otras variadas perspectivas no occidentales. En conclusión, afirmamos la necesidad de una aproximación dialógica global a la bioética en general.
Palabras clave:
Bioética
Ética médica
Ética global
Autonomía individual
Diversidad cultural
Article
These are the options to access the full texts of the publication BIOETHICS UPdate
Subscribe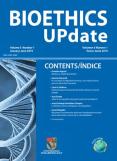 Subscribe to
BIOETHICS UPdate
Contact
Phone for subscriptions and reporting of errors
From Monday to Friday from 9 a.m. to 6 p.m. (GMT + 1) except for the months of July and August which will be from 9 a.m. to 3 p.m.
Calls from Spain
932 415 960
Calls from outside Spain
+34 932 415 960
E-mail