Article information
Abstract
Full Text
Bibliography
Download PDF
Statistics
Abstract
The bioethics of complexity is aimed at overcoming a simple and rough meaning of bioethics and its regulatory ambitions, which risks to flatten humans' peculiarities at the same level of what is typical of the natural and biological world, and proposes a new complex thinking, able to merge what seems separated and to distinguish interdependences and feedbacks between events, recognizing the interrelations between forms and aspects of life, the relations between phenomenons and their backgrounds and between backgrounds and Earth and eventually to accept uncertainty, that is composed by some elements like unpredictability, innovation and mutation. Thanks to this new approach it is possible to understand new forms of relationships between patients and physicians and to propose a different vision of disease and therapy (medicine of complexity), it it possible to re-think about our relationship with nature, which is impossible to understand in a reducing and separate way (environmental bioethics and ecology), proposing a new humanism open to the ecological dimension, which has not the limits of the strong anthropocentric approach. Finally, the bioethics of complexity could teach us to re-think in a non antagonistic way the couple humanity/animality, leading to a new way of animal bioethics and a new way to think about pity, aware of the dangers of the anthropomorphization of our travel companions in the voyage of Life on Earth.
Keywords:
Bioethics
Complexity
Anthropocentrism
Medicine
Ecology
Resumen
La bioética de la complejidad tiene como objetivo superar un significado simple y burdo de la bioética y sus ambiciones regulatorias, que corren el riesgo de uniformar las peculiaridades humanas al mismo nivel de lo típico en el mundo natural y biológico, y propone un nuevo pensamiento complejo, capaz de englobar lo que parece separado y de distinguir las interdependencias y retroalimentaciones entre los eventos, reconociendo así las interrelaciones entre distintas formas y aspectos de la vida, las relaciones entre fenómenos y sus contextos, y entre los mismos contextos y la Tierra, para eventualmente aceptar la incertidumbre, que está conformada por algunos elementos como la impredictibilidad, la innovación y la mutación. Gracias a esta nueva óptica, es posible comprender nuevas formas de relaciones entre pacientes y médicos y proponer una visión distinta de la enfermedad y la terapia (la medicina de la complejidad); es posible replantear nuestra relación con la naturaleza, que resulta imposible de entender desde una visión reducida y por separado (la bioética ambiental y ecología), para finalmente esbozar un nuevo humanismo abierto a la dimensión ecológica, libre de las limitaciones que impone una visión meramente antropocéntrica. Por último, la bioética de la complejidad podría enseñarnos a pensar desde una perspectiva no antagonista sobre el par humanidad/animalidad, que conduce a una nueva forma de bioética animal y una nueva manera de pensar sobre la compasión, la conciencia de los peligros que surgen con la antropomorfización de nuestros compañeros de vida en nuestra travesía por la Vida en la Tierra.
Palabras clave:
Bioética
Complejidad
Antropocentrismo
Medicina
Ecología
Article
These are the options to access the full texts of the publication BIOETHICS UPdate
Subscribe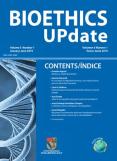 Subscribe to
BIOETHICS UPdate
Contact
Phone for subscriptions and reporting of errors
From Monday to Friday from 9 a.m. to 6 p.m. (GMT + 1) except for the months of July and August which will be from 9 a.m. to 3 p.m.
Calls from Spain
932 415 960
Calls from outside Spain
+34 932 415 960
E-mail