Article information
Abstract
Full Text
Bibliography
Download PDF
Statistics
Resumen
Este trabajo presenta un marco de reflexiones éticas concernientes a la investigación sobre seres humanos, para formular algunas propuestas argumentadas sobre los artículos 2, 15, 19, 23, 32, 33, 34, de la Declaración de Helsinki. Esta declaración constituye un documento pionero y de amplia aceptación a nivel mundial y por esto requiere una reflexión constante, acorde al acelerado avance de la aplicación de la ciencia a la investigación biomédica. Esta Declaración deberá ser un compromiso obligado, no opcional, de acatamiento en todas las Cartas de Consentimiento para la participación de seres humanos en una investigación.
Palabras clave:
Bioética
Declaración de Helsinki
Derechos Humanos
Vulnerabilidad
Investigación en humanos
Abstract
This paper presents a framework of ethical considerations regarding research on human beings, to outline a number of proposals and argumentations on the Declaration of Helsinki Articles 2, 15, 19, 23, 32, 33, 34. Said Declaration is a ground-breaking paper which has been widely accepted world-wide, and as such, deserves constant reflection on its contents, to match the fast-paced progress made in the application of Science to the Biomedical research. The Declaration of Helsinki should be a mandatory, rather than optative, undertaking to comply, included in all the Consent Letters for participation in research trials by any human being.
Keywords:
Bioethics
Helsinki Declaration
Human rights
Vulnerability
Research in humans
Article
These are the options to access the full texts of the publication BIOETHICS UPdate
Subscribe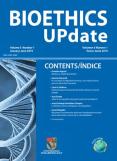 Subscribe to
BIOETHICS UPdate
Contact
Phone for subscriptions and reporting of errors
From Monday to Friday from 9 a.m. to 6 p.m. (GMT + 1) except for the months of July and August which will be from 9 a.m. to 3 p.m.
Calls from Spain
932 415 960
Calls from outside Spain
+34 932 415 960
E-mail