Article information
Abstract
Full Text
Bibliography
Download PDF
Statistics
Resumen
Se destaca aquí la correlación entre la bioética y las revoluciones tecnocientíficas de la genómica y la neurobiología (sucintamente descritas), acentuando el doble poder de las tecnologías, como medio de conocimiento y como instrumento de alteración de las microrrealidades descubiertas. Corresponde a la bioética discernir la ambivalencia de estos nuevos poderes y saberes, y determinar por diversas vías (desde comités hasta declaraciones de la UNESCO) cuáles son los aspectos lesivos e inadmisibles contra la condición humana en su dignidad y su existencia misma. Sostengo que las nuevas verdades científicas de la biología molecular enriquecen el conocimiento de lo humano, pero que este no se agota en tales verdades ni permite reducir a lo biológico la comprensión cabal de la humanidad. Uno es el conocimiento biocientífico de la naturaleza biológica del ser humano, y otro, el de su naturaleza ontológica, histórica, cultural y ética.
Palabras clave:
Bioética
Genómica
Neurobiología
Tecnociencias
Transhumanismo
Ontología
Abstract
This paper is intended to outline the correlation between Bioethics and the techno-scientific revolutions initiated by genomics and neurobiology (briefly described herein), emphasising the two-tier power of such technologies: as a means of knowledge and as a tool that may alter the micro-realities found. The challenge for Bioethics is to discern the ambivalence of these new powers and knowledge, as well as to determine, through different paths (from committees to UNESCO resolutions), what the detrimental and inadmissible aspects harmful to human condition, human dignity and human existence itself are. I state that the new scientific truths found by molecular biology serve to enrich our insight of what is human, but that such knowledge is not restricted to those truths, nor does it allow us to confine the whole comprehension of humanity to a merely biological perspective. On the one hand, we have the bio-scientific insight of the biological nature of human beings and, on the other, we have the human ontological, historical, cultural and ethical nature.
Keywords:
Bioethics
Genomics
Neurobiology
Technosciences
Transhumanism
Ontology
Article
These are the options to access the full texts of the publication BIOETHICS UPdate
Subscribe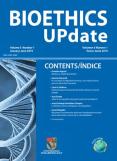 Subscribe to
BIOETHICS UPdate
Contact
Phone for subscriptions and reporting of errors
From Monday to Friday from 9 a.m. to 6 p.m. (GMT + 1) except for the months of July and August which will be from 9 a.m. to 3 p.m.
Calls from Spain
932 415 960
Calls from outside Spain
+34 932 415 960
E-mail