Article information
Abstract
Full Text
Bibliography
Download PDF
Statistics
Abstract
Over the last two-decade, major efforts have been underway to improve the standard of care at the end of life. Nevertheless, recent evidence has highlighted that many patients still receive overtreatment or inappropriate support to face dying in all its complexity. These scenarios may increase thoughts of death that often occur during the course of terminal illnesses requiring prompt and adequate interpretations and interventions. This suggests the need for a change in treating dying patients along with a clear understanding of the root causes of requests for euthanasia. In this regards, we propose a protocol for a shared end-of-life care plan aimed at ensuring a quality accompaniment toward natural death. It involves the patient and their family, as well as healthcare providers in a flexible work plan articulated in two phases concerning respectively pre-mortem and post-mortem actions. It offers a clear and systemic template for care in preparation for natural death, which takes into consideration healthcare duties and the patient as a person.
Keywords:
Death
Dying
Euthanasia
Terminal palliative sedation
Advanced care planning
Natural Death Protocol
Resumen
Desde hace dos décadas, se han realizado muchos esfuerzos para promover el cuidado estandarizado al final de la vida. No obstante, existen evidencias recientes que señalan que muchos pacientes todavía reciben tratamiento inapropiado para enfrentar el proceso de morir en toda su complejidad. Esos escenarios aumentan los pensamientos sobre la muerte en el proceso de la enfermedad terminal lo cual requiere prontas y adecuadas interpretaciones y acciones. Ésto sugiere la necesidad de cambiar el manejo de los pacientes en proceso de muerte comprendiendo claramente las raíces del porqué solicitan eutanasia. En éste sentido, nosotros proponemos un protocolo de cuidados de fin de vida en forma compartida que asegure la calidad de acompañamiento frente a la muerte natural. Este modelo implica al paciente y la familia, así como a los proveedores de salud en un plan flexible de trabajo articulado en dos fases de acciones, la pre-mortem y la post-mortem. Este modelo ofrece una clara y sistémica base de cuidado en preparación para la muerte natural, que toma en consideración las obligaciones del personal de salud y al paciente como persona.
Palabras clave:
Muerte
Morir
Eutanasia
Sedación paliativa terminal
Plan de cuidados avanzados
Protocolo de Muerte Natural
Article
These are the options to access the full texts of the publication BIOETHICS UPdate
Subscribe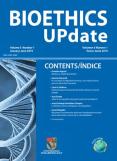 Subscribe to
BIOETHICS UPdate
Contact
Phone for subscriptions and reporting of errors
From Monday to Friday from 9 a.m. to 6 p.m. (GMT + 1) except for the months of July and August which will be from 9 a.m. to 3 p.m.
Calls from Spain
932 415 960
Calls from outside Spain
+34 932 415 960
E-mail