Received 13 January 2019. Accepted 15 March 2019
Article information
Abstract
Full Text
Bibliography
Download PDF
Statistics
Abstract
An unusual case is presented of a 29 year-old Caucasian woman with a granuloma in an old scar in the right periocular region as a first clinical sign of a systemic sarcoidosis. An excisional biopsy was performed, for which the histological diagnosis was a chronic non-necrotising granulomatous inflammation, suggestive of scar sarcoidosis. The lesion re-appeared one year after initial treatment, and was treated with intralesional depot steroids, showing adequate progression. This disease occurs more frequently in wound areas where there are foreign bodies and could be the first sign of systemic sarcoidosis.
Keywords:
Scar sarcoidosis
Granuloma
Non-caseating granulomatosis
Foreign body
Resumen
Se presenta un caso raro de una mujer caucásica de 29 años con un granuloma en una cicatriz antigua, en la región periocular derecha, como primer signo clínico de una sarcoidosis sistémica. Se procedió a una biopsia escisional de la lesión con diagnóstico anatomopatológico de inflamación crónica granulomatosa no necrosante, con características histológicas sugestivas de sarcoidosis de cicatriz. Al año, la lesión recidivó, por lo que se trató con esteroides depot intralesionales. Esta patología se produce con más frecuencia cuando existen cuerpos extraños y puede ser la primera señal de sarcoidosis sistémica.
Palabras clave:
Sarcoidosis de cicatriz
Granuloma
Granulomatosis no necrosante
Cuerpo extraño
Article
These are the options to access the full texts of the publication Archivos de la Sociedad Española de Oftalmología (English Edition)
Subscribe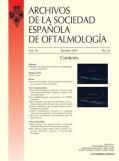 Subscribe to
Archivos de la Sociedad Española de Oftalmología (English Edition)
Contact
Phone for subscriptions and reporting of errors
From Monday to Friday from 9 a.m. to 6 p.m. (GMT + 1) except for the months of July and August which will be from 9 a.m. to 3 p.m.
Calls from Spain
932 415 960
Calls from outside Spain
+34 932 415 960
E-mail