Received 15 January 2019. Accepted 01 April 2019
Article information
Abstract
Full Text
Bibliography
Download PDF
Statistics
Abstract
Demodex folliculorum and Demodex brevis are ectoparasites that inhabit the skin of humans. They have been related to alterations in the ocular surface, such as, dysfunction of Meibomian glands, blepharitis, chalazion, etc. Ocular demodicosis is characterized by the pathognomonic presence of cylindrical dandruff at the base of the eyelashes, and various symptoms including, among others, itching, lacrimation, and hyperaemia. A bibliographic review was carried out on the role of Demodex spp. in ocular disease, including publications made by the scientific society between 2005 and 2018. A significant relationship was found between prevalence and incidence of Demodex spp. in eye diseases. D. folliculorum is usually found more frequently than D. brevis in ocular infestation, with the prevalence or incidence of infestation by both species increasing with the age of the patient. In patients with blepharitis or other infectious diseases of the ocular surface, unresolved with antibacterial treatment, the search for Demodex spp. should be considered.
Keywords:
Demodex
Blepharitis
Cylindrical dandruff
Chalazion
Resumen
Demodex folliculorum y Demodexbrevis son ectoparásitos que habitan en la piel de los seres humanos. Han sido relacionados con alteraciones en la superficie ocular, tales como disfunción de glándulas de Meibomio, blefaritis, chalazión, etc. La demodicosis ocular se caracteriza por la presencia patognomónica de caspa cilíndrica en la base de las pestañas y diversos síntomas como picazón, lagrimeo e hiperemia, entre otros. Se realizó una revisión bibliográfica del rol de Demodex spp. en la enfermedad ocular, incluyéndose publicaciones científicas entre los años 2005-2018. Se registró una asociación importante de prevalencia e incidencia de Demodex spp. en enfermedades oculares. D. folliculorum se encontró con mayor frecuencia que D. brevis en la infestación ocular, incrementándose la prevalencia o incidencia de infestación por ambas especies con la edad del paciente. Se sugiere que en pacientes con blefaritis, u otra enfermedad infecciosa de la superficie ocular no resuelta con tratamiento antibacteriano, debería plantearse la búsqueda de Demodex spp.
Palabras clave:
Demodex
Blefaritis
Caspa cilíndrica
Chalazión
Article
These are the options to access the full texts of the publication Archivos de la Sociedad Española de Oftalmología (English Edition)
Subscribe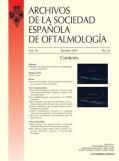 Subscribe to
Archivos de la Sociedad Española de Oftalmología (English Edition)
Contact
Phone for subscriptions and reporting of errors
From Monday to Friday from 9 a.m. to 6 p.m. (GMT + 1) except for the months of July and August which will be from 9 a.m. to 3 p.m.
Calls from Spain
932 415 960
Calls from outside Spain
+34 932 415 960
E-mail