Article information
Abstract
Full Text
Bibliography
Download PDF
Statistics
Abstract
The human retina, as transducer of light energy, is especially exposed to light toxicity. Solar maculopathy has been the only form of photic maculopathy for millennia, often secondary to the observation of an eclipse. During the last century, technological advances have led to the appearance of new forms of photic maculopathy, related to the exposure to new forms of artificial light, such as welding devices and lasers. In recent years, the general use of laser pointers has led to an upturn in interest in this pathology. The aim of this review is to offer an integrated view of the different types of photic maculopathy. Due to the extension of this topic, the review is presented divided into two parts. In this first part solar maculopathy and welding arc maculopathy are presented.
Keywords:
Photic maculopathy
Solar maculopathy
Eclipse maculopathy
Arc welding maculopathy
Handheld laser maculopathy
Macular dystrophy
Resumen
La retina humana, como tejido transductor de la energía lumínica, está especialmente expuesta a la toxicidad inducida por la exposición a la luz. La maculopatía solar ha sido durante milenios la única forma de maculopatía fótica, muchas veces en relación con la observación de un eclipse. Durante el último siglo los avances tecnológicos han conducido a la aparición de nuevas formas de retinopatía fótica, en relación con la exposición a nuevas formas de luz artificial como los dispositivos de soldar o emisores de láser. En los últimos años la generalización del uso de punteros láser ha hecho que repunte el interés por esta patología. El objetivo de esta revisión es ofrecer una visión integrada de los diversos tipos de maculopatía fótica. La revisión se presenta dividida en dos partes, debido a la extensión del tema tratado. En esta primera parte se trata la maculopatía solar y la maculopatía producida por exposición a los dispositivos de soldar.
Palabras clave:
Maculopatía fótica
Maculopatía solar
Maculopatía por eclipse
Maculopatía por dispositivos de soldar
Maculopatía por puntero láser
Distrofia macular
Article
These are the options to access the full texts of the publication Archivos de la Sociedad Española de Oftalmología (English Edition)
Subscribe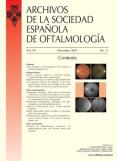 Subscribe to
Archivos de la Sociedad Española de Oftalmología (English Edition)
Contact
Phone for subscriptions and reporting of errors
From Monday to Friday from 9 a.m. to 6 p.m. (GMT + 1) except for the months of July and August which will be from 9 a.m. to 3 p.m.
Calls from Spain
932 415 960
Calls from outside Spain
+34 932 415 960
E-mail