Article information
Abstract
Full Text
Bibliography
Download PDF
Statistics
Abstract
Purpose
To describe the anatomical and functional results of intravitreal antiangiogenic treatment in optic nerve head drusen associated with choroidal neovascularisation.
Case report
An 8-year-old male patient with a diagnosis of neovascular membrane in the right eye associated with bilateral optic nerve head drusen. Best-corrected visual acuity (BCVA) was by counting fingers in the right eye and improved to 0.4 after antiangiogenic treatment. A complete consolidation of the lesion was observed with no associated complications arising from the treatment.
Discussion/Conclusions
Antiangiogenic treatment is an effective option, and no side-effects have been observed in treatment of neovascular tissue associated with optic disc drusen in children.
Keywords:
Optic nerve head drusen
Choroidal neovascularisation
Anti-VEGF
Children
Paediatric
Resumen
Objetivo
Describir los resultados anatómicos y funcionales obtenidos en un caso de neovascularización coroidea asociada a drusas papilares tras tratamiento antiangiogénico intravítreo.
Caso clínico
Paciente varón de 8 años con diagnóstico de membrana neovascular en ojo derecho asociada a drusas papilares bilaterales. La agudeza visual al comienzo fue de cuenta dedos, mejorando hasta 0,4 tras tratamiento antiangiogénico. Se obtuvo una consolidación completa de la lesión sin complicaciones asociadas derivadas del tratamiento.
Discusión/Conclusiones
El empleo de terapia antiangiogénica ha resultado efectivo y no se han evidenciado efectos secundarios en el tratamiento de membrana neovascular asociada a drusas en edad pediátrica.
Palabras clave:
Drusas papilares
Neovascularización coroidea
Anti-VEGF
Niños
Pediatría
Article
These are the options to access the full texts of the publication Archivos de la Sociedad Española de Oftalmología (English Edition)
Subscribe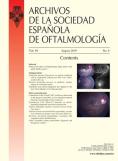 Subscribe to
Archivos de la Sociedad Española de Oftalmología (English Edition)
Contact
Phone for subscriptions and reporting of errors
From Monday to Friday from 9 a.m. to 6 p.m. (GMT + 1) except for the months of July and August which will be from 9 a.m. to 3 p.m.
Calls from Spain
932 415 960
Calls from outside Spain
+34 932 415 960
E-mail