Article information
Abstract
Full Text
Bibliography
Download PDF
Statistics
Abstract
Objectives
To determine the prevalence of ophthalmological emergency visits to two tertiary hospital in all age groups during years 2014 and 2015.
Methods
All patients who attended Ophthalmological Emergency Department from 1 January 2014 to 31 December 2015 were included in the study. The demographic variables studied were gender, age, place of origin, time of arrival, day of the week, month and year of the visit, the diagnosis, destination on discharge, total time of the visit and priority. Pathologies were categorized using codes from ICD-9, CM.
Results
A total of 39,869 visits were made between 2014 and 2015. Emergency consultations were more frequent among women, on Mondays, and from April to June. The mean age of the patients was 46.24years old, and 73.42% of visits were classified as non-emergencies. The most frequent pathology was conjunctivitis (17.28%), followed by keratitis (15.31%), and vitreous detachment (5.37%). The pathology that led to more hospital admissions was orbital cellulitis (23%). The majority of patients (94.85%) were sent to their place of residence after the visit.
Conclusions
Given that the great majority of Ophthalmological Emergency visits are categorized as non-emergencies, measures need to be set up in order achieve a more effective care focused on emergency pathology without using unnecessary resources.
Keywords:
Emergency
Ophthalmology
Epidemiology
Resources
Efficiency
Resumen
Objetivo
Determinar la epidemiología de todas las visitas a urgencias oftalmológicas incluyendo todos los grupos de edad durante los años 2014 y 2015 en dos hospitales de tercer nivel.
Métodos
Fueron incluidos todos los pacientes que acudieron a urgencias oftalmológicas desde el 1 de enero de 2014 al 31 de diciembre de 2015. Las variables estudiadas fueron el sexo, la edad, el lugar de procedencia, la hora de llegada, el día de la semana, el mes y el año de la visita, el diagnóstico, el lugar de derivación al alta, el nivel de prioridad y el tiempo total de asistencia. Las patologías fueron clasificadas según los códigos CIE-9, MC.
Resultados
Se produjeron un total de 39.869 visitas a urgencias entre los años 2014 y 2015. Estas fueron más frecuentes en el sexo femenino, los lunes y en los meses de abril, mayo y junio. La edad media fue de 46,24años. El 73,42% de las visitas se clasificaron como no urgentes. La patología más frecuente atendida fue la conjuntivitis (17,28%), seguida de queratitis (15,31%) y desprendimiento de vítreo posterior (5,37%). La celulitis orbitaria fue la patología que cursó con un mayor porcentaje de ingresos (23%). La mayoría de los pacientes fueron derivados al alta a su domicilio (94,85%).
Conclusiones
Dado que la gran mayoría de patologías atendidas en urgencias son no urgentes, es conveniente el establecimiento de medidas para conseguir una asistencia más eficiente, orientada a la patología urgente y que no consuma recursos innecesarios.
Palabras clave:
Urgencias
Oftalmología
Epidemiología
Recursos
Eficiencia
Article
These are the options to access the full texts of the publication Archivos de la Sociedad Española de Oftalmología (English Edition)
Subscribe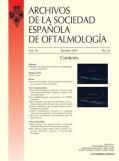 Subscribe to
Archivos de la Sociedad Española de Oftalmología (English Edition)
Contact
Phone for subscriptions and reporting of errors
From Monday to Friday from 9 a.m. to 6 p.m. (GMT + 1) except for the months of July and August which will be from 9 a.m. to 3 p.m.
Calls from Spain
932 415 960
Calls from outside Spain
+34 932 415 960
E-mail