Article information
Abstract
Full Text
Bibliography
Download PDF
Statistics
Tables (2)
Table 1. Demographic and preoperative data of the 8 patients, as well as the follow-up parameters evaluated at 1 day, 1 week, 1 month and 6 months of follow-up.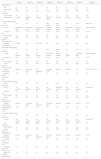 Abstract
Purpose
To describe intracameral toxic effects of cefuroxime at a higher dose than recommended in cataract surgery.
Methods
Retrospective study of 8 eyes of 8 patients who inadvertently received 12.5 mg/0.1 ml of intracameral cefuroxime due to a dilution error, at the end of the cataract surgery. All patients underwent a strict ophthalmology follow-up for 6 months.
Results
All patients presented with a marked anterior segment inflammation with corneal oedema that resolved completely in all cases (between 5 days and 3 months). At 6 months of follow-up a statistically significant difference was found in the corneal endothelial cell density when compared with the fellow eye (P = .038), being <1000 cells/mm2 in 3 cases. Three patients (37.5%) showed early macular oedema, with subfoveal ellipsoid layer disruption in one case as a permanent sequel. One patient developed an optic neuropathy with associated afferent pupillary defect.
Conclusions
Although 1 mg/0.1 ml of intracameral cefuroxime has been shown to reduce the incidence of endophthalmitis, its overdose can have potentially toxic eye effects in both anterior and posterior segments.
Keywords:
Cefuroxime
Cataract
Corneal oedema
Macular oedema
Optic neuropathy
Resumen
Objetivo
Describir los efectos de la inyección de cefuroxima intracameral a una dosis más alta de la recomendada en cirugía de catarata.
Métodos
Estudio retrospectivo de 8 ojos de 8 pacientes operados de catarata en un mismo día que recibieron 12,5 mg/0,1 ml de cefuroxima intracameral de forma inadvertida al finalizar la cirugía, por un error en la dilución. A todos los pacientes se les realizó un seguimiento oftalmológico estrecho durante 6 meses.
Resultados
Todos los pacientes presentaron una inflamación marcada del segmento anterior con edema corneal que se resolvió en todos los casos (entre 5 días y 3 meses). A los 6 meses de seguimiento se constató una diferencia significativa en el recuento endotelial corneal de dichos ojos al compararlo con el ojo contralateral (p = 0,038), siendo <1000 cels/mm2 en 3 casos. Tres pacientes (37,5%) presentaron un edema macular precoz, dejando como secuela permanente la disrupción de la capa elipsoidal a nivel subfoveal en uno de los casos. Uno de los pacientes desarrolló una neuropatía óptica con defecto pupilar aferente asociado.
Conclusiones
Aunque la inyección de cefuroxima en cámara anterior a dosis de 1 mg/0,1 ml ha demostrado disminuir la incidencia de endoftalmitis, su sobredosificación puede tener efectos oculares potencialmente perjudiciales tanto en el segmento anterior como en el posterior.
Palabras clave:
Cefuroxima
Catarata
Edema corneal
Edema macular
Neuropatía óptica
Article
These are the options to access the full texts of the publication Archivos de la Sociedad Española de Oftalmología (English Edition)