Article information
Abstract
Full Text
Bibliography
Download PDF
Statistics
Abstract
Introduction
An elevated intraocular pressure (IOP) remains the main risk factor for progression of glaucoma upon which we can efficiently act. Pharmacological strategies to reduce IOP are directed toward the reduction of aqueous humor (AH) production and/or the increase in AH drainage through the uveoscleral pathway. However, there are no drugs currently available as first-line treatment to increase AH outflow primarily via the conventional route. Ocular nitric oxide (NO) production takes place in AH outflow pathways and in the ciliary muscle, modulating the cellular response to elevated IOP.
Methods
This review describes the mechanism of action of endogenous NO and NO-donating compounds that are under research. It includes information regarding pre-clinical and clinical studies previously conducted with these compounds, discussing their role and therapeutic potential in the pharmacological treatment of ocular hypertension in glaucoma.
Results
The topical ocular administration of NO-donating compounds significantly lowered IOP and maintained it in animal models of glaucoma and subjects with ocular hypertension.
Conclusions
The mechanism of action of these compounds is novel and scientific evidence that shows promising results. However, there is a need for more comprehensive studies to assess long-term safety and tolerability in order to properly evaluate their use in chronic therapies.
Keywords:
Nitric oxide donors
Antihypertensive agents
Intraocular pressure
Aqueous humor outflow
Resumen
Introducción
En relación con la progresión del glaucoma, la presión intraocular (PIO) elevada es el principal factor de riesgo sobre el que se puede actuar. Las estrategias farmacológicas destinadas a reducir la PIO tienen como objetivo la reducción de la producción de humor acuoso (HA) y/o el aumento de su drenaje a través de la vía uveoescleral. Sin embargo, en la actualidad no hay ninguna estrategia farmacológica de primera elección que de forma principal esté destinada a facilitar la salida de HA por la vía convencional. La producción de óxido nítrico (NO) a nivel ocular tiene lugar en las rutas de flujo de HA y en el músculo ciliar, modulando la respuesta celular en situaciones de PIO elevada.
Métodos
En esta revisión se describe el mecanismo de acción del NO endógeno así como de las nuevas moléculas donadoras de NO que se encuentran en fase de investigación. Además se incluye información acerca de los estudios preclínicos y clínicos realizados hasta la fecha con estos nuevos compuestos, discutiendo su potencial terapéutico en el tratamiento farmacológico de la hipertensión ocular en glaucoma.
Resultados
La administración de compuestos donadores de NO por vía tópica oftálmica proporciona un descenso de la PIO marcado y mantenido en modelos experimentales de glaucoma y en sujetos con hipertensión ocular.
Conclusiones
El mecanismo de acción de estos compuestos es novedoso y la evidencia científica muestra resultados prometedores. Sin embargo, para poder valorar su uso en terapias crónicas son necesarios más estudios que demuestren su seguridad y la eficacia a largo plazo.
Palabras clave:
Donadores de óxido nítrico
Agentes hipotensores
Presión intraocular
Glaucoma
Article
These are the options to access the full texts of the publication Archivos de la Sociedad Española de Oftalmología (English Edition)
Subscribe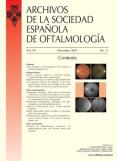 Subscribe to
Archivos de la Sociedad Española de Oftalmología (English Edition)
Contact
Phone for subscriptions and reporting of errors
From Monday to Friday from 9 a.m. to 6 p.m. (GMT + 1) except for the months of July and August which will be from 9 a.m. to 3 p.m.
Calls from Spain
932 415 960
Calls from outside Spain
+34 932 415 960
E-mail