Article information
Abstract
Full Text
Bibliography
Download PDF
Statistics
Abstract
Minimally invasive glaucoma surgery for chronic open-angle glaucoma treatment tries to reduce the amount of chronic topical drug treatment, delaying invasive glaucoma surgery and diminishing the number of surgical complications. XEN45 uses subconjunctival drainage in order to reduce intraocular pressure.
The report is presented of a patient following phacoemulsification, intraocular lens implantation and XEN45 implant. After four days acute malignant glaucoma was observed, with stage 3 athalamia requiring pars plana vitrectomy and secondary Ahmed valve implantation.
The lower rate of complications due to minimally invasive glaucoma surgery has increased its use. Nevertheless, it is not free of severe adverse events, even requiring a multidisciplinary approach as in our malignant glaucoma report.
Keywords:
Malignant glaucoma
Minimally invasive glaucoma surgery
XEN implant
Resumen
En el tratamiento del glaucoma de ángulo abierto ha surgido el concepto de cirugía mínimamente invasiva intentando reducir el tratamiento tópico crónico, retrasar cirugía más invasiva y disminuir el número de complicaciones. El XEN45 utiliza la vía de drenaje subconjuntival para reducir la presión intraocular.
Presentamos el caso de una paciente que fue sometida a cirugía de facoemulsificación, implante de lente intraocular y dispositivo XEN45. Cuatro días después presentó episodio agudo de glaucoma maligno con atalamia grado 3 que requirió vitrectomía pars plana e implante secundario de válvula de Ahmed.
La menor tasa de complicaciones de la cirugía mínimamente invasiva de glaucoma ha incrementado su uso. Sin embargo, no está exenta de complicaciones graves requiriendo incluso un abordaje multidisciplinar como en el caso del glaucoma maligno que presentamos.
Palabras clave:
Glaucoma maligno
Cirugía microinvasiva de glaucoma
Implante XEN
Article
These are the options to access the full texts of the publication Archivos de la Sociedad Española de Oftalmología (English Edition)
Subscribe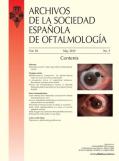 Subscribe to
Archivos de la Sociedad Española de Oftalmología (English Edition)
Contact
Phone for subscriptions and reporting of errors
From Monday to Friday from 9 a.m. to 6 p.m. (GMT + 1) except for the months of July and August which will be from 9 a.m. to 3 p.m.
Calls from Spain
902 88 87 40
Calls from outside Spain
+34 932 418 800
E-mail