Article information
Abstract
Full Text
Bibliography
Download PDF
Statistics
Special issue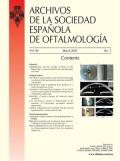 This article is part of special issue:
Vol. 96. Issue S1
Aniridia: Update in Diagnosis, Complications and Management
More info
Abstract
This review updates the knowledge about the morphological assessment of the foveal hypoplasia in congenital aniridia and resumes the reported genotype-phenotype correlations known to date.
Congenital aniridia is a pan ocular disease. Although iris absence is considered the hallmark of this entity, foveal hypoplasia is present in 94.7%–84% of patients. A foveal morphology assessed by optical coherence tomography in which external retina structures can be identified, with presence of the lengthening of photoreceptors outer segment and a greater external retinal thickness, is associated with a better visual outcome, regardless a foveal pit is identified or not. This analysis can be performed once the external retina has completed its differentiation, by 6 years old.
PAX6 mutations that introduce premature termination codon, C terminal extension or PAX6 involving deletions have been related to lesser foveal differentiation. Better foveal differentiation has been associated to non-coding PAX6 mutations.
Keywords:
Congenital aniridia
PAX6
Optical coherence tomography
Foveal hypoplasia
Genotype-phenotype correlations
Resumen
En esta revisión se realiza una actualización de los conocimientos sobre la evaluación morfológica de la hipoplasia foveal en aniridia congénita y una síntesis de las correlaciones genotipo-fenotipo macular conocidas hasta el momento.
La aniridia congénita es una enfermedad panocular en la que, aunque la ausencia del iris se considere el sello distintivo, se identifica una la hipoplasia foveal en el 94,7–84% de los casos. Una morfología foveal analizada mediante tomografía de coherencia óptica en la que puedan identificarse las estructuras de la retina externa, con elongamiento de los segmentos externos de los fotorreceptores y con un mayor grosor de la misma, está asociada a un mejor pronóstico visual, independientemente de que se identifique o no una depresión foveal. Este análisis puede ser realizado una vez la retina externa ha podido completar su desarrollo, a partir de los seis años de edad.
Las mutaciones que introducen un codón de parada prematuro, extensión C terminal o deleciones que comprometen al PAX6 se han asociado a una menor diferenciación foveal. Las fóveas mejor desarrolladas han sido asociadas a mutaciones en regiones no codificantes del PAX6.
Palabras clave:
Aniridia congénita
PAX6
Tomografía de coherencia óptica
Hipoplasia foveal
Correlación genotipo-fenotipo
Article
These are the options to access the full texts of the publication Archivos de la Sociedad Española de Oftalmología (English Edition)