Article information
Abstract
Full Text
Bibliography
Download PDF
Statistics
Abstract
A 30 year-old man with acute myeloblastic leukemia and secondary myelodysplastic syndrome developed graft-versus-host disease. The patient was treated with ruxolitinib. After being treated for 3 months with ruxolitinib, an inhibitor of Janus kinase, he developed Aspergillus retinal necrosis resistant to common treatment.
Treatment with Janus kinase inhibitors may lead to an increased incidence of opportunistic infections. Janus kinase inhibitor administration may result in poor treatment efficacy.
Keywords:
Retinal necrosis
Ruxolitinib
Graft-versus-host disease
Acute myeloblastic leukemia
Myelodysplastic syndrome
Resumen
Varón de 30 años de edad con leucemia mieloblástica aguda y síndrome mielodisplásico secundario que desarrolló una enfermedad injerto contra huésped. El paciente fue tratado con ruxolitinib, un inhibidor de la Janus quinasa. A los 3 meses de haber iniciado el tratamiento se produjo una necrosis retiniana por Aspergillus, sin respuesta al tratamiento.
El tratamiento con inhibidores de la Janus quinasa favorecería un aumento en la incidencia de infecciones oportunistas. El uso de estos fármacos podría dar lugar a una menor eficacia de los tratamientos empleados.
Palabras clave:
Necrosis retiniana
Ruxolitinib
Enfermedad injerto contra huésped
Leucemia mieloblástica aguda
Síndrome mielodisplásico
Article
These are the options to access the full texts of the publication Archivos de la Sociedad Española de Oftalmología (English Edition)
Subscribe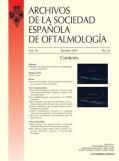 Subscribe to
Archivos de la Sociedad Española de Oftalmología (English Edition)
Contact
Phone for subscriptions and reporting of errors
From Monday to Friday from 9 a.m. to 6 p.m. (GMT + 1) except for the months of July and August which will be from 9 a.m. to 3 p.m.
Calls from Spain
932 415 960
Calls from outside Spain
+34 932 415 960
E-mail