Article information
Abstract
Full Text
Bibliography
Download PDF
Statistics
Abstract
Case report
The case is presented of a 3-year-old girl with an erythematous oedematous plaque associated with blepharitis, and chalazion in the right upper eyelid. She received empirical treatment with topical corticosteroids, as well as an antifungal and antibiotic, without observing any improvement. The culture of the eyelid scrape showed Microsporum canis. Therefore, she was prescribed oral terbinafine and topical miconazole-betamethasone, achieving a clinical and microbiological recovery.
Discussion
Eyelid infection due to dermatophytes is uncommon, but it should be considered among the diagnostic suspicions of palpebral skin lesions. The microbiological study is a key factor for its diagnosis and appropriate treatment.
Keywords:
Dermatophytosis
Tinea
Blepharitis
Microsporum canis
Resumen
Caso clínico
Presentamos el caso de una niña de 3 años de edad, quien tenía una placa eritematoedematosa asociada a blefaritis y chalazión en el párpado superior derecho. Recibió tratamiento empírico con corticoide, antifúngico y antibiótico tópicos sin notar mejoría. El cultivo de raspado del párpado reveló Microsporum canis, por lo cual se prescribió terbinafina oral y miconazol-betametasona tópicos consiguiendo la curación clínica y microbiológica.
Discusión
La infección palpebral por dermatofitos es poco frecuente, pero debemos considerarla dentro de las sospechas diagnósticas de lesiones cutáneas palpebrales. Es clave el estudio microbiológico para su diagnóstico y tratamiento adecuados.
Palabras clave:
Dermatofitosis
Tiña
Blefaritis
Microsporum canis
Article
These are the options to access the full texts of the publication Archivos de la Sociedad Española de Oftalmología (English Edition)
Subscribe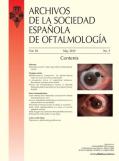 Subscribe to
Archivos de la Sociedad Española de Oftalmología (English Edition)
Contact
Phone for subscriptions and reporting of errors
From Monday to Friday from 9 a.m. to 6 p.m. (GMT + 1) except for the months of July and August which will be from 9 a.m. to 3 p.m.
Calls from Spain
902 88 87 40
Calls from outside Spain
+34 932 418 800
E-mail