Article information
Abstract
Full Text
Bibliography
Download PDF
Statistics
Abstract
Objective
To report the results using Micropulse® transscleral cyclophotocoagulation (Iridex) in the treatment of glaucoma.
Methods
Retrospective study in adult patients with glaucoma with at least 6 months of follow-up, and only one session of Micropulse®. The same surgical technique was used in all cases. The only laser parameter that could vary was the total treatment duration (in seconds). The remaining parameters were fixed at 2Watts of power and 0.5ms (31.3%) of active cycle.
Results
A total of 22 eyes of 17 patients with glaucoma of various types and stages were included (mainly congenital and pseudoexfoliation). The mean follow-up time was 7.9 months. The total treatment duration varied from 100 to 180s.
Definition of success: 5mmHg<Intraocular pressure (IOP)<21mmHg and a reduction of ≥20% of the baseline value and no addition of oral carbonic anhydrase inhibitors, and no re-operation.
The overall success rate was 72.7% in the first month, 54% at 4 months, 41% at 6 months, and 27.3% at final follow-up. Patients with longer treatment durations (180s) achieved better results. The mean reduction in IOP in successful eyes was 36% (from 26.3 to 16.7mmHg, SD 4.58, p=0.028). No complications were reported.
Conclusions
In a heterogeneous population of glaucoma (mostly congenital and pseudoexfoliation types), a low success rate (27.3%) was obtained in the medium-term with a single session of Micropulse®.
Keywords:
Glaucoma
Cyclophotocoagulation
Infrared diode laser
Resumen
Propósito
Comunicar nuestros resultados con la ciclofotocoagulación transescleral con el láser diodo Micropulse® (Iridex) en el tratamiento del glaucoma.
Métodos
Estudio retrospectivo en pacientes adultos con glaucoma con al menos 6 meses de seguimiento y solo una sesión de Micropulse®. Se utilizó la misma técnica quirúrgica, el único parámetro de láser que podía variar fue el tiempo total de tratamiento (en segundos). Los parámetros restantes se mantuvieron fijos en 2W de potencia y 0,5ms (31,3%) de ciclo activo.
Resultados
Se obtuvo un total de 22 ojos de 17 pacientes con glaucoma de diversos tipos y estadios (en su mayoría congénitos y pseudoexfoliativos). El tiempo medio de seguimiento fue 7,9 meses. La duración total del tratamiento varió de 100 a 180segundos.
Definición de éxito: 5mmHg<presión intraocular (PIO)<21mmHg, y una reducción≥20% del valor basal y no adición de inhibidores orales de la anhidrasa carbónica y no reoperación.
La tasa de éxito global fue del 72,7% en el primer mes, del 54% a los 4 meses, del 41% a los 6 meses y del 27,3% en el seguimiento final. Los pacientes tratados con duraciones de tratamiento más prolongadas (180s) lograron mejores resultados. La reducción promedio de la PIO en ojos exitosos fue del 36% (de 26,3 a 16,7mmHg, DE: 4,58, p=0,028). No se informaron complicaciones.
Conclusiones
En una población heterogénea de glaucoma (principalmente de tipo congénito y pseudoexfoliativo) obtuvimos una baja tasa de éxito (27,3%) en el mediano plazo con una sola sesión de Micropulse®.
Palabras clave:
Glaucoma
Ciclofotocoagulación
Láser diodo infrarrojo
Article
These are the options to access the full texts of the publication Archivos de la Sociedad Española de Oftalmología (English Edition)
Subscribe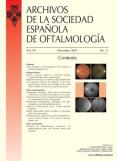 Subscribe to
Archivos de la Sociedad Española de Oftalmología (English Edition)
Contact
Phone for subscriptions and reporting of errors
From Monday to Friday from 9 a.m. to 6 p.m. (GMT + 1) except for the months of July and August which will be from 9 a.m. to 3 p.m.
Calls from Spain
932 415 960
Calls from outside Spain
+34 932 415 960
E-mail