Article information
Abstract
Full Text
Bibliography
Download PDF
Statistics
Abstract
Case report
The case is presented on a 54-year-old woman with a central serous chorioretinopathy, misdiagnosed as Vogt–Koyanagi–Harada disease, and treated with systemic corticosteroids. The patient presented with a bilateral bullous exudative retinal detachment.
Discussion
Discontinuation of corticosteroid therapy, surgical drainage of subretinal fluid, and photodynamic therapy, led to anatomical and functional improvement. The recognition of an atypical presentation of central serous chorioretinopathy may avoid complications of the inappropriate treatment with corticosteroids.
Keywords:
Central serous chorioretinopathy
Vogt–Koyanagi–Harada disease
Exudative retinal detachment
Corticosteroids
Pars plana vitrectomy
Subretinal liquid drainage
Photodynamic therapy
Resumen
Caso clínico
Presentamos el caso de una mujer de 54 años con una coriorretinopatía serosa central diagnosticada erróneamente de enfermedad de Vogt-Koyanagi-Harada y tratada con corticoides sistémicos. La paciente desarrolló un desprendimiento de retina exudativo bulloso en ambos ojos.
Discusión
La interrupción del tratamiento con corticoides junto con el drenaje quirúrgico del líquido subretiniano y la aplicación de terapia fotodinámica consiguió la mejoría anatómica y funcional. El correcto diagnóstico de las formas atípicas de la enfermedad podría evitar las complicaciones del uso inadecuado de los corticoides.
Palabras clave:
Coriorretinopatía serosa central
Enfermedad de Vogt-Koyanagi-Harada
Desprendimiento exudativo de retina
Corticoides
Vitrectomía pars plana
Drenaje de líquido subretiniano
Terapia fotodinámica
Article
These are the options to access the full texts of the publication Archivos de la Sociedad Española de Oftalmología (English Edition)
Subscribe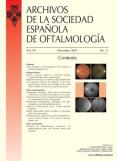 Subscribe to
Archivos de la Sociedad Española de Oftalmología (English Edition)
Contact
Phone for subscriptions and reporting of errors
From Monday to Friday from 9 a.m. to 6 p.m. (GMT + 1) except for the months of July and August which will be from 9 a.m. to 3 p.m.
Calls from Spain
932 415 960
Calls from outside Spain
+34 932 415 960
E-mail