Article information
Abstract
Full Text
Bibliography
Download PDF
Statistics
Abstract
Objective
To assess ocular involvement in the pathophysiology of autosomal dominant compelling helio-ophthalmic outburst syndrome (ACHOOs).
Methods
An interview was conducted with a Caucasian family that showed clinical features of ACHOOs. Twelve of them had photic reflex and were recruited. A complete eye evaluation was made.
Results
A dominant autosomal inheritance with mild penetrance was demonstrated, with 67% of the studied subjects showing some degree of prominent corneal nerves. No other eye changes were found.
Conclusions
Prominent corneal nerves may be associated with ACHOOs. The other eye structures studied do not seem to play a role in ACHOOs. Further studies are needed to understand the physiology of the ACHOOs.
Keywords:
Photic reflex
Sneeze
Sunlight
Ocular
Dominant autosomal inheritance
Prominent corneal nerves
Resumen
Objetivo
Evaluar la implicación ocular en la fisiopatología del síndrome helio-oftálmico de estornudos compulsivos autosómico dominante (ACHOOs).
Métodos
Una familia de raza caucásica, que muestra las características clínicas de ACHOOs, fue interrogada. De toda la familia, 12 pacientes presentan reflejo fótico y fueron seleccionados. Se realiza una evaluación oftalmológica completa.
Resultados
Se encuentra una herencia autosómica dominante con penetrancia parcial. El 67% de los sujetos estudiados mostró algún grado de prominencia en los nervios corneales. No se encontraron otras alteraciones oculares.
Conclusiones
Los nervios corneales prominentes pueden tener asociación con el ACHOOs. Las otras estructuras del ojo estudiados no parecen desempeñar un papel en el ACHOOs. Se necesitan más estudios para comprender la fisiología del ACHOOs.
Palabras clave:
Reflejo fótico
Luz solar
Estornudo
Ocular
Herencia autosómica dominante
Nervios corneales prominentes
Article
These are the options to access the full texts of the publication Archivos de la Sociedad Española de Oftalmología (English Edition)
Subscribe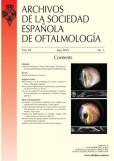 Subscribe to
Archivos de la Sociedad Española de Oftalmología (English Edition)
Contact
Phone for subscriptions and reporting of errors
From Monday to Friday from 9 a.m. to 6 p.m. (GMT + 1) except for the months of July and August which will be from 9 a.m. to 3 p.m.
Calls from Spain
932 415 960
Calls from outside Spain
+34 932 415 960
E-mail