Full Text
To the Editor,
In recent times, we face a paradigm change in approach and treatment of hepatocellular carcinoma (HCC), with the description of some cases with complete remission after systemic therapy such as sorafenib.
1
Case report
In our centre, we followed a 52-year-old man, with a history of non-Hodgkin's lymphoma, diagnosed in 1985, and actually in remission for 30 years. In 2011, in the evaluation of abdominal pain, he was diagnosed with hepatitis C associated cirrhosis complicated by HCC. He presented a thrombocytopenia (104×109/L) and an increase of cytocholastase parameters [alanine aminotransferase (ALT) of 162U/L (>37) and aspartate aminotransferase (AST) of 140U/L (>37), alkaline phosphatase (AP) of 151U/L (>120) and gamma-glutamyl transferase (GGT) of 796 (>49)]. The total bilirubin was slightly increased [1.54mg/dl (>1.20)] and albumin and coagulation tests were normal. The cirrhosis was compensated (Child–Pugh A), he presented Eastern Cooperative Oncology Group (ECOG) performance status of 0 points and alfa-fetoprotein level was >20,000ng/mL. In upper endoscopy, small esophageal varices, without red signs were observed. It was performed a magnetic resonance that demonstrated multiple confluent nodular images in the hepatic right lobe, appearing a nodulariform area with 106×82mm, with typical findings of multifocal hepatocellular carcinoma (Fig. 1). The main portal vein was patent, although its left branch was involved by lesion, and there was no evidence of metastases in staging. As HCC was in BCLC stage-B (intermediate), he was proposed for transarterial chemoembolization that was unfeasible due to a high-flow hepatic arteriovenous fistula. In the context of stage migration, he started on sorafenib that was tolerated at full-dose (400mg, bid), simultaneously with prophylaxis for palmoplantar syndrome. Despite, a mild palmar erythema, or other adverse effects were observed neither a dose reduction was required. Thus, sorafenib therapy was maintained at the same dose, without interruptions, during these eight years.
The clinical course was favorable, with a progressive reduction in the number, size and degree of contrast uptake, achieving partial response criteria of Response Evaluation Criteria In Solid Tumors (RECIST) and modified RECIST. The alfa-fetoprotein levels normalized after 18 months of treatment and this response has been persistent in the past 8 years, since the start of therapy (Fig. 2). Analytically, a reduction of transaminases was observed with normalization of AP. In 2015, he achieved HCV (genotype 3) cure after 24 weeks antiviral therapy with sofosbuvir, ledipasvir and ribavirin. Nowadays, the patient is assymptomatic and with a good quality of life (Fig. 3).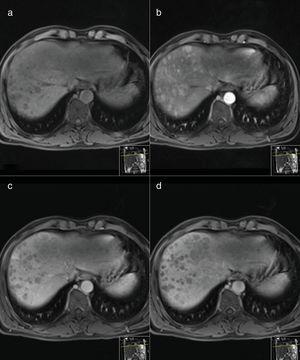 Fig. 2.
MR Images performed before (a) and after intravenous injection of gadoxetic acid of a histology proven hepatocarcinoma (HCC). Axial arterial phase T1-weighted MR image (b) shows multiple nodular areas of early enhancement involving the right lobe. Axial portal venous (c) and delayed (d) phase T1-weighted MR images show washout appearance of the nodules.
(0.3MB).
Fig. 3.
MR Images performed 9 years after treatment before (a) and after intravenous injection of gadoxetic acid. The nodular lesions are no longer seen in any of the sequences. There is a subcapsular hipointense area in dynamic T1-weighted MR images, causing capsular retraction (arrow in b) suggestive of a fibrotic area. There are small vessels (dashed arrows) but no suspicious nodular enhancing areas are seen.
(0.3MB).
2
Discussion
International guidelines recommend that sorafenib should be maintained until clinical or radiographic progression. However, the best method to evaluate its therapeutic response is still unclear; a relevant concern is that the antiangiogenic effect may overestimate the response in conventional imagiologic methods (mRECIST) [1]. This is most important when assessing a possible downstaging, which would enable other therapies, such as liver transplantation.
In the literature, there are some cases described of complete remission of HCC after sorafenib therapy [2]; however, this case is, at best of our knowledge, the one who presents the greater follow-up time after the achievement of remission.
Despite several studies, it has not been possible to identify which patients are the best candidates for this systemic therapy, with a higher probability of complete response. Nevertheless, the occurrence of adverse events has been associated with improved survival/outcome of HCC treated with sorafenib [3,4].
In this patient, although liver function remained stable and without worsening of portal hypertension, a potential indication for liver resection or transplantation is debatable, namely concerning the imagiological downstaging, as discussed above, and the risk-benefit of this invasive intervention when the patient is asymptomatic with a long-term oral therapy.
Financial support
Nothing to declare. The data have been generated as part of the routine work of an organization.
Conflicts of interest
Nothing to declare.
Copyright © 2019. Fundación Clínica Médica Sur, A.C.