Article information
Abstract
Full Text
Bibliography
Download PDF
Statistics
Abstract
Background
Few studies on the age of resolution of Food Protein Induced Enterocolitis Syndrome (FPIES) induced by solid foods are available. In particular, for FPIES induced by egg, the mean age of tolerance acquisition reported in the literature ranges from 42 to 63 months.
Objective
We have assessed whether the age of tolerance acquisition in acute egg FPIES varies depending on whether the egg is cooked or raw.
Methods
We conducted a retrospective and multicentric study of children with diagnosis of acute egg FPIES seen in 10 Italian allergy units between July 2003 and October 2017. The collected data regarded sex, presence of other allergic diseases, age of onset of symptoms, kind and severity of symptoms, cooking technique of the ingested egg, outcome of the allergy test, age of tolerance acquisition.
Results
Sixty-one children with acute egg FPIES were enrolled, 34 (56%) males and 27 (44%) females. Tolerance to cooked egg has been demonstrated by 47/61 (77%) children at a mean age of 30.2 months. For 32 of them, tolerance to raw egg has been demonstrated at a mean age of 43.9 months. No episodes of severe adverse reaction after baked egg ingestion have been recorded.
Conclusions
It is possible to perform an OFC with baked egg, to verify the possible acquisition of tolerance, at about 30 months of life in children with acute egg FPIES.
Keywords:
Cooking
Egg
Food protein induced enterocolitis syndrome
Oral food challenge
Tolerance acquisition
Article
These are the options to access the full texts of the publication Allergologia et Immunopathologia
Subscribe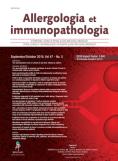 Subscribe to
Allergologia et Immunopathologia
Contact
Phone for subscriptions and reporting of errors
From Monday to Friday from 9 a.m. to 6 p.m. (GMT + 1) except for the months of July and August which will be from 9 a.m. to 3 p.m.
Calls from Spain
932 415 960
Calls from outside Spain
+34 932 415 960
E-mail