Article information
Abstract
Full Text
Bibliography
Download PDF
Statistics
Tables (4)
Table 1. Sociodemographic, clinical, biochemical characteristics, treatment and clinical outcome of study population (n = 63).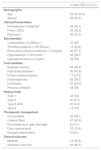 Abstract
Introduction and objectives
Emphysematous pyelonephritis is a life-threatening infection of the kidney and surrounding tissues associated with a high mortality rate. The aim of this study was to determine predictive factors for mortality and intensive care unit admission in patients with emphysematous pyelonephritis, and to propose a therapeutic algorithm based on current literature and our experience.
Methods
A retrospective study was done including patients with emphysematous pyelonephritis in a single center in the north of Mexico from 2011 to 2016. Demographic, clinical, microbiological and biochemical parameters, therapeutic management, and outcomes were assessed. Factors associated with admission to intensive care unit and mortality were determined. Comparison was assessed using X2 test for categorical variables, and T-test for numerical variables. Univariate and multivariate logistic regression analyses were performed. Statistical significance was set at P < .05.
Results
A total of 63 patients were included, of which 55 (87.3%) were females, with a mean age of 55.5 ± 12.2 years. The most common comorbidities were diabetes and hypertension. Escherichia coli was the most common isolated microorganism (51.7%) and extended-spectrum beta-lactamase-producing agents were reported in 31.7%. Conservative therapy was provided to 38.7%, double J stent 42.9%, open/percutaneous drainage 12.7%, and nephrectomy 25.3%. Overall mortality and intensive care admission were 20.6% and 36.5%, respectively. In the multivariate analysis, hemodynamic instability (P = .005), qSOFA ≥ 2 (P = .003), hypoalbuminemia (P = .02), and early nephrectomy (P = .002) were associated with intensive care admission. Huang scale 4 (P = .006) and early nephrectomy (P = .001) were associated to mortality.
Conclusions
Emphysematous pyelonephritis is a life-threatening disease and evidence of management is based in small case series due to the low incidence of this condition. Hemodynamic instability, hypoalbuminemia, qSOFA ≥ 2, Huang scale ≥3, and early nephrectomy are associated with poor prognosis.
Keywords:
Emphysematous pyelonephritis
Intensive care unit
Mortality
Nephrectomy
Prognosis
Resumen
Introducción y objetivos
La pielonefritis enfisematosa es una infección del riñón y los tejidos circundantes que pone en riesgo la vida del paciente y se asocia a una elevada tasa de mortalidad. El objetivo de este estudio fue determinar los factores predictivos de mortalidad e ingreso en la unidad de cuidados intensivos en pacientes con pielonefritis enfisematosa, y proponer un algoritmo terapéutico basado en la literatura actual y en nuestra experiencia.
Métodos
Se realizó un estudio retrospectivo incluyendo los pacientes con pielonefritis enfisematosa en un solo centro del norte de México entre 2011 y 2016. Se evaluaron parámetros demográficos, clínicos, microbiológicos y bioquímicos, el manejo terapéutico y los resultados. Se determinaron los factores asociados con el ingreso a la unidad de cuidados intensivos y la mortalidad. La comparación se evaluó mediante la prueba de chi cuadrado para las variables categóricas, y la prueba t de Student para las variables numéricas. Se realizaron análisis de regresión logística univariante y multivariante. La significación estadística se fijó en P < ,05.
Resultados
Se incluyeron 63 pacientes, de los cuales 55 (87,3%) eran mujeres, con una edad media de 55,5 ± 12,2 años. Las comorbilidades más frecuentes fueron la diabetes y la hipertensión. Escherichia coli fue el microorganismo más comúnmente aislado (51,7%) y los agentes productores de betalactamasas de espectro extendido se registraron en el 31,7%. Se administró tratamiento conservador al 38,7%, el uso de catéter doble J en el 42,9%, drenaje abierto/percutáneo en el 12,7% y nefrectomía en 25,3%. La mortalidad global y el ingreso en cuidados intensivos fueron del 20,6% y el 36,5%, respectivamente. En el análisis multivariante, la inestabilidad hemodinámica (P = 0,005), la escala qSOFA ≥ 2 (P = ,003), la hipoalbuminemia (P = ,02) y la nefrectomía temprana (P = ,002) se asociaron con el ingreso en cuidados intensivos. La clase 4 en la escala de Huang (P = ,006) y la nefrectomía temprana (P = ,001) se asociaron a la mortalidad.
Conclusiones
La pielonefritis enfisematosa es una enfermedad potencialmente mortal y, debido a su baja incidencia, los datos existentes sobre su manejo se basan en pequeñas series de casos. La inestabilidad hemodinámica, la hipoalbuminemia, la qSOFA ≥ 2, la escala de Huang ≥3 y la nefrectomía temprana se asocian a un mal pronóstico.
Palabras clave:
Pielonefritis enfisematosa
Unidad de cuidados intensivos
Mortalidad
Nefrectomía
Pronóstico
Article
These are the options to access the full texts of the publication Actas Urológicas Españolas (English Edition)