Full Text
Clinical case
A 40-year-old woman presented with insidious-onset nasal obstruction and anosmia since two months. Examination revealed a grossly thickened and bulged septum that was non-tender, firm, non-fluctuant, with normal-appearing mucosa [Fig. 1]. There was no history of facial trauma, epistaxis, and nasal discharge. However, the patient admitted to have the habit of frequent nose-picking. She was also having frequent evening rise of temperature since three months, although she experienced no significant weight loss, cough or hemoptysis. There were no palpable cervical nodes. Routine hematologic investigations were acceptable except the erythrocyte sedimentation rate (87mm; 1st hour). Her chest skiagram was unremarkable, and her serology reports were non-reactive. Contrast-enhanced computed tomography (CT)-scan showed heterogeneous soft-tissue thickening of the septum that extended throughout its antero-posterior and cranio-caudal dimensions, involving the cribriform area/olfactory fossa [Fig. 2]. A biopsy from the septal thickening under local anesthesia was planned.
Figure 2.
CT-scans (a–d) show diffuse thickening of the septum along its entire antero-posterior and supero-inferior dimensions, significantly occluding the nasal airway. The lesion appears heterogeneous (b and c), and extends to involve the cribriform plate/olfactory fossa (a and b), and as far as the sphenoidal rostrum posteriorly (d).
(0.45MB).
At surgery, the mucoperichondrial flap was found grossly affected with dense fibrous tissue. The septal framework, however, was intact, maintaining a definite plane with the mucoperichondrium. Slices from the thickened mucoperichondrium and the dense tissue underneath on histology showed fibrocollagenous tissue heavily infiltrated by inflammatory cells, along with Langhans' and foreign body giant cells, and granulomas showing occasional necrosis [Fig. 3].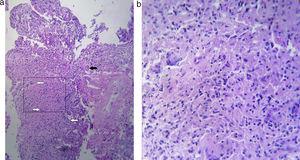 Figure 3.
Histopathology shows dense infiltration of inflammatory cells within the fibrocollagenous stroma, epithelioid granulomas with occasional necrosis, and Langhans' (white arrows) and foreign body giant cells (black arrow), suggesting mycobacterial infection [×100 (a); ×400 (b); Hematoxylin-Eosin]. b represents the magnified view of the window in a.
(0.69MB).
The clinico-histologic features suggested isolated, primary tuberculosis of nasal septum. The patient was advised multi-drug anti-tuberculosis chemotherapy ("fresh" category) for six months. With treatment, the septal thickening subsided appreciably, and she had also started to regain her smell.
Discussion
Primary tuberculosis of the nasal septum is one of the least common forms of extra-pulmonary tuberculosis, aptly referred to as the "disappeared disease".1 It is seldom suspected in isolated, non-specific swelling of the septum, and remains a diagnosis of exclusion even in the endemic regions. Primary nasal (septal) tuberculosis is unusual because of the resistance to Mycobacterium tuberculosis through the filtering action of vibrissae, bactericidal property of nasal secretions, and the mechanical barrier due to ciliary movements.1 Although nasal tuberculosis is mostly secondary to hematogenous or lymphatic dissemination from a primary Koch's focus in the lungs, it may also be primary due to violation of the mucosal barrier, either anatomic (direct inoculation by fingernail trauma), and/or physiologic (loss of mucociliary and lysosomal activity). Since our patient was immunocompetent and otherwise healthy without any evidence of pulmonary tubercular focus, it can be speculated that her habit of nose-picking could have led to the mucosal breach, and subsequent inoculation of the bacteria.
Although septal tuberculosis is often considered the commonest form of nasal tuberculosis,2 related literature mostly deals with lupus vulgaris where the septum is affected in contiguity, characterized by granulation, ulceration, perforation, and disfigurement of the nose, along with the typical apple-jelly nodules.3 Both varieties can be primary or secondary, encountered in moderate-to-good immunity,2,3 and are rarely associated with anosmia.4 However, evidence-based data regarding the primary non-ulcerated form of nasal tuberculosis restricted within the septum is frugal.
In this context, we observe two distinct clinical phenotypes of isolated septal tuberculosis: the relatively common "ulcerated" form, and the rare "non-ulcerated" form. While the "non-ulcerated" form might appear as smooth, ill-defined submucosal thickening masquerading as septal abscess or hematoma, the "ulcerated" variety is known to present with perforation and crusting.2,5 Therefore, distinguishing the "ulcerated" form from an early lupus vulgaris without its characteristic destructive features might be challenging. On the other hand, although short of evidence at present, it might be postulated that the long-standing "non-ulcerated" form might eventually ulcerate, such that the two phenotypes remain in clinical continuum.
Since the "non-ulcerated" form of isolated septal tuberculosis is seldom encountered, a high index of suspicion should be maintained in immunocompetent patients presenting with chronic non-fluctuant septal swelling. Although the diagnosis of primary septal tuberculosis might still be that of exclusion, knowledge of this seldom-encountered form is necessary to include this entity among the probable differentials. We therefore believe that the present clinical illustration would serve as a classic reference for the "non-ulcerated" form of primary, isolated septal tuberculosis that, albeit rare, is a distinct variety of extra-pulmonary tuberculosis of head and neck.
Financial disclosure
None declared.
Conflict of interest
None declared.
Copyright © 2017. Sociedad Española de Otorrinolaringología y Cirugía de Cabeza y Cuello