Full Text
Case Presentation
A 24-year-old woman presented with a painless swelling in her right pinna which was noticed about four months back and had a recent increase in size. On examination, a 1.5×1cm, firm, non-tender skin-colored nodule was seen in the helix. A clinical diagnosis of keloid was rendered. Considering chances of recurrence following surgical excision and because the woman was not concerned about cosmesis, we preferred to wait-and-watch. We were skeptical about the provisional diagnosis though, as she gave no history of ear-prick, a custom common among women for wearing ear-rings, and also because there was a history of transient peri-lesional reddening one month back. She returned two weeks later with the swelling increased in size, erythematous, and covered by crust. The scab was removed and the raw, bleeding, necrotic surface exposed (Fig. 1). At this point, we considered some form of chronic granulomatous disease or pyogenic granuloma as alternative possibilities, and went for excision of the lesion. Histopathology revealed predominance of basophilic basaloid cells with scanty cytoplasm at the periphery and anucleated eosinophilic "ghost cells" at the center, with giant cells, foci of keratin and hyaline deposits interspersed in the stroma (Fig. 2a). There was a breach in the epithelium and part of it overlying the ulcer was thinned out allowing egress of the inner contents (Fig. 2b). The clinico-histologic features suggested perforating pilomatricoma. The patient was followed up for 8 months without any recurrence.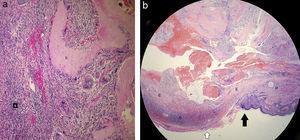 Figure 2.
(a) Histopathology shows aggregate of basophilic basaloid cells (B) at the periphery in a backdrop of generalized collagenization, and the eosinophilic anucleated "ghost/shadow" cells (E) in the center. Note the scattered granuloma (G) [Hematoxylin-Eosin; 100×]. (b) Histopathology shows breach of epithelium (black arrow) with adjacent thinning (white arrow), allowing egress of eosinophilic "shadow/ghost cells" (E) and basaloid cells (B). Note the keratin pearl (P) [Hematoxylin-Eosin; 50×].
(0.3MB).
Discussion
Pilomatricoma (calcifying epithelioma of Malherbe) is a benign ectodermal tumor of dermis/subcutaneous tissue that originates as a futile attempt of pluripotent cell expression in the germinal matrix center of hair follicles with differentiation toward cortical cells.1 Perforating pilomatricoma is an extremely rare variant characterized by epithelial breach (ulcer). More than 70% present in the head-neck region as ulcers which may ooze or remain covered by crusts, scab or scales, characteristically with peri-lesional erythema and preceded by a rapid spurt of growth.2–4
The mechanism of epithelial thinning and ulceration is yet to be understood properly. The phenomenon has been explained by "transepithelial elimination",5 though by original definition the term connotes channeling of the thickened epithelium that behaves as specific biologic connective tissue unit, and subsequent elimination of inner cellular content without any epithelial injury.6 Interestingly, Ohnishi et al.7 observed that the sites of ulceration did not corroborate with the foci of elimination; such examples did show epithelial channels and the ulcerations were mere co-existences. Presence of frank epithelial breach allowing egress of inner contents, as seen in our patient, is therefore not a common finding in the so-called "perforating" variant. In an aging tumor, the "ghost/shadow cells" are generally found as the predominant cellular entity in relation to the breached epidermis during elimination process. Incidentally, perforating pilomatricomas are often observed in the elderly. As the tumor ages, the inner eosinophilic "ghost cells" increase at the expense of the outer basophilic cells with formation of keratin debris, dystrophic calcification and collagenization which act as foreign entities needing expulsion. However, tumor aging does not always corroborate with the patient's age as such lesions are also seen in children and young adults in about 40% cases.
More relevant clinically is their potential for being misdiagnosed. Conventional pilomatricomas are diagnosed correctly, combining clinico-radiologic and cytologic impressions, in only about 29% cases,8 and perforating pilomatricoma being an extremely rare form is more liable to be misinterpreted. Like conventional pilomatricomas, they occur at areas of intermediate hair, like hair borders, mostly involving the scalp, neck, cheek and peri-orbita.4,6 Conventional pilomatricoma is primarily a disease of children and young adults,9 but the perforating variant is more common in adults and the elderly. Thus, a reddish ulcer that oozes and crusts in this age-group in given anatomic areas could be misdiagnosed as basal or squamous cell carcinoma - and in the pinna, they might masquerade as pyogenic granuloma, keratoacanthoma, or amelanotic malignant melanoma.2 In such cases, a punch biopsy would be diagnostic. They are treated by simple excision with watchful follow-up for possible recurrences.4
Perforating pilomatricoma in the pinna is extremely rare – only two cases have been reported previously - one in the triangular fossa2, the other in the lobule,3 and helix as a subsite has never been documented before. Ear-prick has been the inciting event in one patient,3 but is not a universal pre-requisite. Superficial location and vascular compromise might contribute, but not much is known about the specific factors that trigger such ulcerations. For otolaryngologists dealing with ulcerative lesions in the head-neck area, it is important to consider perforating pilomatricoma as a possible diagnosis. A firm, painless cutaneous lesion in the face and neck near hair borders that has persisted for months and has undergone a recent spurt of growth associated with or followed by ulceration, crusting, oozing and erythema should seriously be considered as perforating pilomatricoma, and should be subjected to a punch or excisional biopsy for histologic confirmation. In this report, we have illustrated a representative case of perforating pilomatricoma in the helix of the pinna; although seldom encountered and notoriously misdiagnosed, it has its characteristic clinical features that can distinguish it from the common ulcerative lesions of head and neck.
Conflict of Interest
The authors have no conflicts of interest to declare.
Acknowledgment
We thank Debabrata Bandyopadhyay, MD, Professor and Head, Department of Dermatology, Venereology and Leprosy, Medical College and Hospital, Kolkata, India, for his kind advices in preparing the manuscript.
Please cite this article as: Dutta M, Ghatak S, Sarkar R, Sengupta S. Perforantes pilomatricomas presentación como una úlcera en el Helix del Pinna. 2015;66:359–361.
Copyright © 2014. Elsevier España, S.L.U. and Sociedad Española de Otorrinolaringología y Patología Cérvico-Facial